Displaying items by tag: Three Flavours Cornetto Trilogy 4K
Thursday, 05 September 2019 17:38
Tuesday, 16 July 2019 19:19
All right, we have another big day of Blu-ray, DVD, and 4K title announcements for you, so stand by for that.
First, Tim has posted new reviews of Scream Factory's Quartermass II on Blu-ray, as well as Dennis' thoughts on Mother Wore Tights on Blu-ray from Twilight Time. I'm also going to be working on a review of HBO's From the Earth to the Moon on Blu-ray later today – I'll try to have that up for tomorrow. And more are coming.
Now then... let's dive right into the announcement news...
Warner Bros. Home Entertainment has just officially set director Michael Dougherty's Godzilla: King of the Monsters for release on Blu-ray, DVD, and 4K Ultra HD on 8/27, with the Digital release expected on 8/6. Note that the 4K disc will include HDR10, HDR10+, and Dolby Vision high dynamic range. The 4K disc will also feature an object-based Dolby Atmos soundtrack. Extras will include audio commentary by the director, deleted scenes, and 17 behind-the-scenes featurettes (including Godzilla: Nature's Fearsome Guardian, Mothra: Queen of the Monsters, King Ghidorah: The Living Extinction Machine, Rodan: Airborne God of Fire, Godzilla 2.0, Making Morthra, Creating Ghidorah, Reimagining Rodan, The Yunnan Temple, Castle Bravo, The Antarctic Base, The Isla de Mara Volcano, The Undersea Lair, Millie Bobby Brown: Force of Nature, Monster Tech: Monarch Joins the Fight, Monsters Are Real, and Welcome to the Monsterverse). You can see the cover artwork above left and also below. [Read on here...]
Monday, 15 July 2019 13:55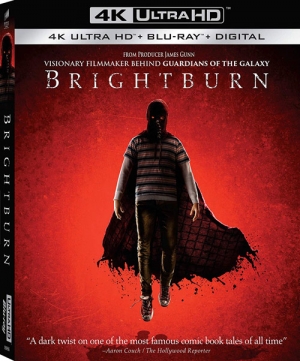 We're back! I have returned from North Dakota, rested, and am now going to be posting like gangbusters here at The Bits, with all kind of Blu-ray, DVD, and 4K release news, catch-up, and whatnot.
First up this morning, today is Amazon Prime Day! As you probably now if you've been following The Bits for any length of time, our Amazon affiliate links play a big part in helping us to keep the site going in lean Internet advertising times. So... if you're planning to do any shopping from Amazon today (or any day), please consider clicking to them from one of our links first (like this one). It makes a huge difference for us. So thank you for doing so!
Now then, Tim and Dennis have been very busy posting Blu-ray reviews this past week here at The Bits and we want to direct your attention to them. We now have reviews up for Lionsgate's The Evil Dead (1981) in 4K, Scream's Night of the Creeps: Collector's Edition, Silent Hill: Collector's Edition, and Piranha: Limited Edition Steelbook, Arrow Video's American Horror Project: Volume Two, The Andromeda Strain, and FM, Severin Films' Robowar, and Grindhouse Releasing's The Tough Ones (1976) from Tim, as well as Warner's Shazam!, Arrow Academy's The Big Clock (1948), and Twilight Time's Stagecoach (1966) from Dennis. Do be sure to check them all out.
Also, San Diego Comic Con kicks off this week and if you're going to be there, Bits editor and author Bill Hunt (yours truly) is on two panels at the Con... [Read on here...]