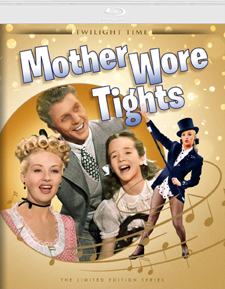 Director
Walter Lang
Release Date(s)
1947 (June 18, 2019)
Studio(s)
20th Century Fox (Twilight Time)
Film/Program Grade: C+
Video Grade: B
Audio Grade: B
Extras Grade: C
Review
MGM, Warner Bros., and 20th Century Fox were the major producers of movie musicals in the 1940s. MGM had Astaire, Kelly, and Garland and Warner Bros. had Doris Day. Fox's box office bonanza was Betty Grable, star of several musicals for the studio, including 1947's Mother Wore Tights, her personal favorite.
During and immediately after World War II, Hollywood produced many films that celebrated the good old days of old-fashioned family values and simpler times. Musicals such as Meet Me in St. Louis, Lillian Russell, There's No Business Like Show Business, Easter Parade, Hello, Frisco, Hello, and In the Good Old Summertime dealt with periods before the world was plunged into war and families were separated for the duration.
Mother Wore Tights departs from the typical musical plot of a romance that blossoms, hits bumps, and turns the lovers into bickering adversaries until all is resolved in a happy ending. Based on a memoir about her vaudevillian parents by Miriam Young, Mother Wore Tights begins with elderly Mother and Daddy sitting on a porch as their story is told in flashback. Small-town business school graduate Myrtle McKinley (Betty Grable) moves to the big city and meets self-centered, brash song-and-dance man Frank Burt (Dan Dailey). There is a bit of flirtation and before you know it, they partner up, travel the country, and eventually marry and have two kids. Their fortunes increase and the family is soon living well enough to enroll their girls in a costly private boarding school.
Focus shifts when daughter Iris (Mona Freeman) becomes attracted to well-to-do Bob Clarkman (Robert Arthur) on vacation and dreads that he and his parents will discover her parents are show folk. Later, she befriends affluent friends at school who look down on entertainers and becomes increasingly embarrassed by her parents' line of work. The film suffers by diverting attention from Grable and Dailey, and Ms. Freeman's weak performance doesn't help.
Musical numbers emerge naturally out of the action, since this is a story about entertainers. Grable, in ragged top hat and tailcoat, performs the old music hall ditty Burlington Bertie From Bow and, dressed elegantly in a glamorous Orry-Kelly gown, sings the romantic Oscar-nominated ballad You Do, which is reprised twice. Alfred Newman won an Oscar for the score. In a party sequence, Señor Wences and his puppet Johnny, frequent guests on The Ed Sullivan Show, do a routine, and the Banana Man, another Sullivan regular, appears in a too-short sequence in which he retrieves endless bunches of bananas from his frock coat as he sings a high-pitched wordless tune.
Ms. Grable once noted that she wasn't much of an actress, couldn't sing, and didn't dance very well. She may have been overly modest. She certainly conveys enthusiasm and has more than enough personality to get by. Dailey, who would make three more pictures with Grable, is a pretty good song-and-dance man, with an athletic, energetic style similar to that of Gene Kelly.
The movie was directed by Walter Lang, who also directed The King and I and many other musicals. He appears to be coasting in Mother Wore Tights, letting Ms. Grable's shapely legs and rosy personality carry the show. A major problem with Lamar Trotti's screenplay is its almost complete lack of conflict. With the exception of Iris's feeling that her parents are an embarrassment, everything moves along relatively smoothly. The film is pleasant enough and was a big hit in its day but doesn't stand the test of time very well. It could have used a dose of Carmen Miranda, a colorful novelty star who often livened up the screen in Fox musicals.
The Region A Blu-ray release, featuring 1080p High Definition resolution, is presented in the aspect ratio of 1.33:1. Visual quality is good throughout, with no noticeable imperfections in the print. The color palette tends toward pastels rather than the bold colors generally associated with Technicolor. This may be due to fading. Grable's costumes do feature rich primary colors and Dailey wears bright-colored jackets in performance scenes. Ms. Grable's shimmering blonde hair and wigs are a color highlight. Thomas Little's set decoration is opulent after the vaudeville team has achieved fame and fortune. Furniture, curtains, carpeting, and wallpaper reflect affluence, though details are not as sharp as in Blu-ray releases of films made in recent years.
The soundtrack is 1.0 DTS-High Definition Master Audio. English subtitles are available for the deaf and hard of hearing. Sound is distinct, with dialogue dominating. Musical numbers contain good balance between vocals and music. Performance scenes set in theaters feature applause which sounds "in the moment," rather than added in post-production.
The Unrated 107-minute Blu-ray is released as a Limited Edition of 3,000 units. Bonus materials include a radio program, the Twilight Time catalogue, and a booklet.
Radio Program – This is a Lux Radio Theater presentation of Mother Wore Tights, starring Better Grable and Dan Dailey, that originally aired on February 2, 1948.
Twilight Catalogue – Twilight Time Blu-ray releases from 2011 through 2019 are listed in a click-on menu.
Booklet – An 8-page insert booklet features an essay by Julie Kirgo, a plot summary, production details, 5 color photos from the film, and a reproduction of the movie's original poster.
– Dennis Seuling
Tags
1947
,
20th Century Fox
,
Anne Baxter
,
Anne Kimbell
,
Betty Grable
,
Blu-ray
,
Blu-ray Disc
,
Chick Chandler
,
Connie Marshall
,
Dan Dailey
,
David Buttolph
,
Dennis Seuling
,
Frank Burt
,
Frank Orth
,
George Cleveland
,
George Davis
,
Harry Cheshire
,
Harry Jackson
,
J Watson Webb Jr
,
J_ Watson Webb Jr_
,
Kathleen Lockhart
,
Lamar Trotti
,
Lee Patrick
,
Lotte Stein
,
Mae Marsh
,
Maude Eburne
,
Miriam Young
,
Mona Freeman
,
Mother Wore Tights
,
musical
,
review
,
Robert Arthur
,
Ruth Clifford
,
Ruth Nelson
,
Sara Allgood
,
Senor Wences
,
Sig Ruman
,
Technicolor
,
The Digital Bits
,
Tom Moore
,
Twentieth Century Fox
,
Twentieth Century Fox Film Corporation
,
Twilight Time
,
Vanessa Brown
,
Veda Ann Borg
,
Walter Lang
,
Will Wright
,
William Forrest
,
William Frawley