Monday, 15 July 2019 11:55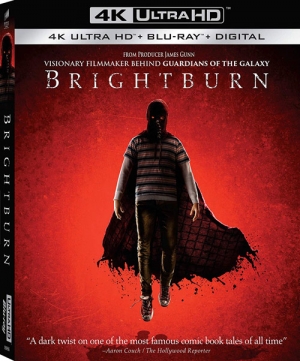 We're back! I have returned from North Dakota, rested, and am now going to be posting like gangbusters here at The Bits, with all kind of Blu-ray, DVD, and 4K release news, catch-up, and whatnot.
First up this morning, today is Amazon Prime Day! As you probably now if you've been following The Bits for any length of time, our Amazon affiliate links play a big part in helping us to keep the site going in lean Internet advertising times. So... if you're planning to do any shopping from Amazon today (or any day), please consider clicking to them from one of our links first (like this one). It makes a huge difference for us. So thank you for doing so!
Now then, Tim and Dennis have been very busy posting Blu-ray reviews this past week here at The Bits and we want to direct your attention to them. We now have reviews up for Lionsgate's The Evil Dead (1981) in 4K, Scream's Night of the Creeps: Collector's Edition, Silent Hill: Collector's Edition, and Piranha: Limited Edition Steelbook, Arrow Video's American Horror Project: Volume Two, The Andromeda Strain, and FM, Severin Films' Robowar, and Grindhouse Releasing's The Tough Ones (1976) from Tim, as well as Warner's Shazam!, Arrow Academy's The Big Clock (1948), and Twilight Time's Stagecoach (1966) from Dennis. Do be sure to check them all out.
Also, San Diego Comic Con kicks off this week and if you're going to be there, Bits editor and author Bill Hunt (yours truly) is on two panels at the Con... [Read on here...]
Monday, 01 July 2019 14:02
We're starting today with a new History, Legacy & Showmanship column from our own Michael Coate, featuring a look back at the James Bond film Moonraker, on the occasion of its 40th anniversary (on June 26th). Michael's put together a great roundtable discussion on the film featuring Mark A. Altman, John Cork, and Lee Pfeiffer. Enjoy!
Also here at the site today, we've got some new disc reviews for you, including Tim's look at Universal's Us in 4K Ultra HD, Scream Factory's Night of the Creeps: Collector's Edition on Blu-ray, and Warner's The New Scooby-Doo Movies: The (Almost) Complete Blu-ray Collection.
And speaking of Scream Factory... Bits editor Bill Hunt (yours truly) will once again be moderating the Shout!/Scream panel at San Diego Comic-Con later this month! Inside an Indie Studio: Shout! Factory will be held from 8-9 PM on Saturday, July 20th in Room 23ABC. [Read on here...]
Tuesday, 16 April 2019 15:38
All right, I'm afraid I'm fighting a little bit of a cold or flu here today, but I do have a quick post for you...
First up, though, Tim has posted two more Blu-ray Disc reviews featuring his thoughts on Dick Clement's A Severed Head (1970) from Powerhouse Films and Indicator, as well as Dennis' take on Michael Anderson's The Quiller Memorandum (1966) from Twilight Time.
Also, a quick plug: Our friend John Schuermann runs The Screening Room AV in Colorado Springs, CO. He's having a big 4K projector shootout event April 26-28th, which is a chance to compare the best 4K projectors from JVC and Sony in controlled conditions, each properly calibrated, and see how they perform first hand. Kris Deering from Sound & Vision Magazine is hosting. If you live in the area, and you're a fan of front projection (like I am), it should be an interesting event. It's free to attend, you just have to register. Visit projectorexpo.com for the details and tell them Bill from The Bits sent you. [Read on here...]