Displaying items by tag: The World Is Not Enough
Saturday, 09 January 2021 14:18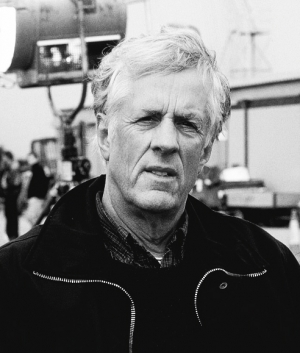 [Editor's Note: This interview was originally posted on The Digital Bits on 9/17/02, coinciding with the Columbia TriStar Home Video DVD release of Enough and Enigma. We would like to dedicate it to the memory of Michael Apted.]
There are some directors who find a genre they're particularly comfortable with or adept at and make an entire career out of it. Think Wes Craven with horror movies or the Farrelly brothers in comedy. Michael Apted is not one of these directors. Apted is a jumper, having tackled everything from courtroom dramas to comedy to rock and roll. When you look at his filmography, the phrase you are most likely to repeat over and over is, "He directed that, too?"
Apted began his career as a researcher and director for British television. In the 1970's, he crossed over to theatrical films with movies like Stardust, a terrific, criminally underrated movie that traces the rise and fall of a rock group (note to the studios: Stardust needs to be released on DVD and the sooner the better). His major American breakthrough came in 1980 with Coal Miner's Daughter, for which Sissy Spacek won the Oscar as Best Actress. Since that time, Apted has worked with some of the best actors in recent memory, including Sigourney Weaver (also Oscar nominated for her work in Apted's Gorillas in the Mist), Jodie Foster (Nell), Val Kilmer (Thunderheart), and Gene Hackman (Class Action and Extreme Measures). Oh yeah, he also helmed one of the most recent adventures of some guy named James Bond (The World is Not Enough). [Read on here...]
Wednesday, 26 February 2020 16:21
All right, we've got a couple things for you today here at The Bits...
We begin with a pair of new Blu-ray Disc reviews, the first from Dennis, who checks out Girl on the Third Floor from Dark Sky Films.
Tim also has a new review for you: Deadly Manor, newly released on Blu-ray from Arrow Video.
And as promised today, our own Michael Coate returns with a new History, Legacy & Showmanship film retrospective. This time, he's joined by historians Robert A. Caplen, Lisa Funnell, and John Cork in looking back at the James Bond film The World Is Not Enough. The piece is presented in honor of the film's 20th anniversary in 2019, but was unavoidably delayed from last year. But great content is great content, and we think you'll enjoy Michael's work as always. You'll find it here. [Read on here...]
Wednesday, 26 February 2020 13:42
"The World Is Not Enough is the first and only Bond film to feature a woman as the arch-villain. For this reason, it is worthy of recognition" — Lisa Funnell, co-author of The Geographies, Genders, and Geopolitics of James Bond
The Digital Bits and History, Legacy & Showmanship are pleased to present this retrospective commemorating the 20th anniversary of the release of The World is Not Enough, the 19th (official) cinematic James Bond adventure and third of four to feature Pierce Brosnan as Agent 007.
Our previous celebratory 007 articles include Licence to Kill, Moonraker, Quantum of Solace, From Russia with Love, Never Say Never Again, Live and Let Die, Octopussy, Casino Royale (1967), Tomorrow Never Dies, Die Another Day, Dr. No, The Living Daylights, The Spy Who Loved Me, You Only Live Twice, Diamonds Are Forever, Casino Royale, For Your Eyes Only, Thunderball, GoldenEye, A View to a Kill, On Her Majesty's Secret Service, Goldfinger, and 007… Fifty Years Strong.
The Bits continues the series with this retrospective featuring a Q&A with an esteemed group of film historians and James Bond authorities who discuss the virtues, shortcomings and legacy of 1999's The World is Not Enough. [Read more here...]