"If [Roger] Moore had ended his Bond tenure with For Your Eyes Only, [the film] would've been all the more noteworthy." — Bill Desowitz
The Digital Bits is pleased to present this retrospective commemorating the 35th anniversary of the release of For Your Eyes Only.
The twelfth cinematic James Bond adventure, it was the fifth to feature Roger Moore as Agent 007, the first of five directed by John Glen, and featured Sheena Easton's chart-topping and Oscar-nominated title song. [Read on here...]
As with our previous 007 articles (see Thunderball, GoldenEye, A View to a Kill, On Her Majesty's Secret Service, Goldfinger, and 007… Fifty Years Strong), The Bits and History, Legacy & Showmanship continue the series with this retrospective featuring a Q&A with an esteemed group of James Bond authorities who discuss the virtues and shortcomings of For Your Eyes Only.
The participants…
Thomas A. Christie is the author of The James Bond Movies of the 1980s (Crescent Moon, 2013). He has written several other books including The Spectrum of Adventure: A Brief History of Interactive Fiction on the Sinclair ZX Spectrum (Extremis, 2016), Mel Brooks: Genius and Loving It! (Crescent Moon, 2015), Ferris Bueller's Day Off: Pocket Movie Guide (Crescent Moon, 2010), John Hughes and Eighties Cinema: Teenage Hopes and American Dreams (Crescent Moon, 2009), and The Cinema of Richard Linklater (Crescent Moon, 2008). He is a member of The Royal Society of Literature, The Society of Authors and The Federation of Writers Scotland.
John Cork is the writer and director of the Inside For Your Eyes Only documentary (1999/2005), originally produced for the DVD release of For Your Eyes Only and upgraded to high-definition for the film's Blu-ray release. He also wrote (with Bruce Scivally) James Bond: The Legacy (Abrams, 2002) and (with Maryam d'Abo) Bond Girls Are Forever: The Women of James Bond (Abrams, 2003) and (with Collin Stutz) James Bond Encyclopedia (DK, 2007). He is the president of Cloverland, a multi-media production company, producing documentaries and supplemental material for movies on DVD and Blu-ray, including material for Chariots of Fire, The Hustler, and many of the James Bond and Pink Panther titles. Cork also wrote the screenplay to The Long Walk Home (1990), starring Whoopi Goldberg and Sissy Spacek, and wrote and directed the 2014 feature documentary You Belong to Me: Sex, Race and Murder in the South for producers Jude Hagin and Hillary Saltzman (daughter of original Bond producer, Harry Saltzman).
Bill Desowitz is the author of James Bond Unmasked (Spies, 2012). He is the owner of Immersed in Movies, a contributor to Thompson on Hollywood at Indiewire and contributing editor of Animation Scoop at Indiewire. He has also contributed to the Los Angeles Times and USA Today.
Lee Pfeiffer is the author (with Philip Lisa) of The Incredible World of 007: An Authorized Celebration of James Bond (Citadel, 1992) and The Films of Sean Connery (Citadel, 2001), and (with Dave Worrall) The Essential Bond: The Authorized Guide to the World of 007 (Boxtree, 1998/Harper Collins, 1999). He was a producer on the Goldfinger and Thunderball Special Edition LaserDisc sets and is the founder (with Dave Worrall) and Editor-in-Chief of Cinema Retro magazine, which celebrates films of the 1960s and 1970s and is "the Essential Guide to Cult and Classic Movies."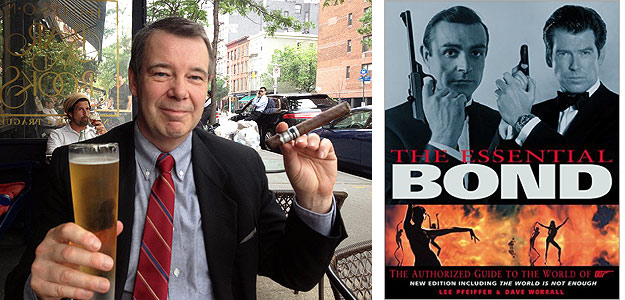 Bruce Scivally is the producer of the Inside For Your Eyes Only documentary (1999/2005) and the author (with John Cork) of James Bond: The Legacy (Abrams, 2002). He has also written Superman on Film, Television, Radio & Broadway (McFarland, 2006), Billion Dollar Batman: A History of the Caped Crusader on Film, Radio and Television from 10¢ Comic Book to Global Icon (Henry Gray, 2011) and Dracula FAQ: All That's Left to Know About the Count from Transylvania (Backbeat, 2015). As well, he has written and produced numerous documentaries and featurettes that have appeared as supplemental material on LaserDisc, DVD and Blu-ray Disc, including several of the Charlie Chan, James Bond, and Pink Panther releases. He is the Vice President of New Dimension Media in Chicago, Illinois.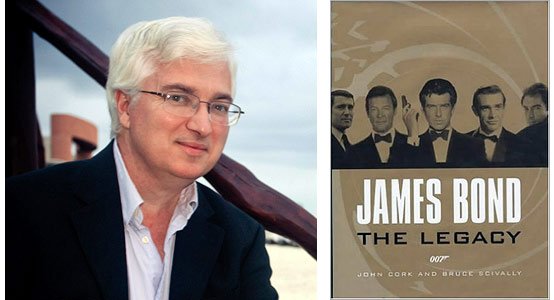 The interviews were conducted separately and have been edited into a "roundtable" conversation format.
And now that the participants have been introduced, I suggest preparing a martini (shaken, not stirred, of course) and cueing up the soundtrack album to For Your Eyes Only, and then enjoy the conversation with these James Bond authorities...
--007--
Michael Coate (The Digital Bits): In what way is For Your Eyes Only worthy of celebration on its 35th anniversary?
Thomas A. Christie: For Your Eyes Only was a significant film for the Bond franchise in a number of ways. It was the first in the series to be directed by John Glen, who would go on to helm a total of five Bond films in succession — a record for the franchise which still stands today. It also marked a very deliberate shift in gear for the Eon Productions creative team, who were making a conscious effort to return some aspect of the series' 1960s glory days to the franchise: the Cold War trappings, a more tangible sense of threat, and a heightened sense of realism — or at least, as close as a Bond film ever really gets to realism. These creative endeavors to subtly refine the series' tone and style would continue throughout the eighties, but the journey began with For Your Eyes Only.
John Cork: 007 faced a major challenge with the release of For Your Eyes Only. Its studio was in chaos. In 1975, '76 and '77, United Artists films had won the Best Picture Oscar. With Bond, Rocky, The Pink Panther and the Woody Allen films, the studio seemed to be one of the most financially stable in Hollywood. But UA's parent company, Transamerica Corp., decided they were not seeing enough profit from UA to justify lofty salaries for the company's leadership. That leadership (legendary studio head Arthur Krim and his team) left in 1978 to form Orion Pictures. Cubby Broccoli was very loyal to Krim, but he could not follow Krim to Orion because UA owned Harry Saltzman's share of Danjaq. The new leadership had not objected to Moonraker's massive budget, and, in fact, gave Cubby a great deal of freedom in making the film. When the time came to make For Your Eyes Only, the new studio leadership did ask for some cost controls, which matched Cubby's personal feeling that too much money had been spent on Moonraker. UA needed to save some money because a western modestly budgeted at $12 million was running massively over budget. Heaven's Gate would end up costing well over $40 million, be delayed for a year, and was yanked from release after a disastrous New York opening. United Artists could not recover. Transamerica fired the studio bosses and summarily put UA up for sale…. In a span of three years, Bond's safe, stable home, run by men who were in the room when the deal for Dr. No had been struck, was now being sold off as a liability, valued for its library and its intellectual property. The most valuable of those properties was James Bond…. During the summer of 1981, a lot of folks were betting against Bond. Releasing a Bond film in 1981 was for many a bit like making a Roy Rogers singing cowboy western in 1965. Sure, everybody loved Bond…but there was this new kid in town named Indiana Jones. Raiders of the Lost Ark opens two weeks before For Your Eyes Only in the U.S., and so does Clash of the Titans, which was red meat for the new generation of movie geek teens who were reading Starlog magazine. Then there was Superman II which opens one week before For Your Eyes Only. You know what else opens just one week earlier? The Cannonball Run, which has Roger Moore playing a James Bond fan who wears a tuxedo and drives around in an Aston Martin. The week For Your Eyes Only opens is the same week as Stripes, the most anticipated comedy of the year, and The Great Muppet Caper and Dragonslayer, another expensive fantasy film. The competition was rough. Bond stood his ground. Bond proved UA still had value. Bond proved that he might not sell as many tickets as Indiana Jones, but he was still a global box office phenomenon…. The reason to celebrate For Your Eyes Only is simple: it was the film that proved Bond was a survivor. After the fantasy elements of The Spy Who Loved Me and Moonraker, For Your Eyes Only played it (mostly) straight. The film bet big on action, and that bet paid off. It had a number of must-see action scenes, some real moments of suspense, felt a little closer to Ian Fleming and by the time Margaret Thatcher was calling Bond it was way too far in the film for anyone to get a refund.
Bill Desowitz: I believe For Your Eyes Only marked a fresh start for the franchise, as it entered the '80s, and for Moore as well. Editor-turned director John Glen wanted a return to Fleming and got a more sensitive and, at times, ruthless performance out of Moore, settling an old score and struggling with vengeance.
Lee Pfeiffer: Eyes was significant at the time because it marked an attempt to bring the character of James Bond back to the real world after the excesses of the previous film, Moonraker. That film was highly successful at the box-office, but producer Cubby Broccoli acknowledged to me years later that he had received a lot of complaints from Bond fans that the series' emphasis on gadgets and slapstick humor was wearing very thin with them. To his credit, Broccoli abandoned that formula — at least in part — and committed to bringing Bond back to more believable story lines. It was a decision that was enthusiastically welcomed by the 007 purists and probably saved the series from running out of steam, as the overt humor would have worn thin with general audiences very quickly.
Bruce Scivally: For Your Eyes Only is one of those watershed Bond films, a film that took a dramatic turn from what had come before and shifted the series into a new direction. The previous 007 entry, Moonraker, was full-blown fantasy, ending with a space battle involving shuttlecraft and laser guns that, at the time, were years beyond any kind of reality, and a villain whose ultimate goal was not just world domination but global destruction; it was the apotheosis of late-1970s disco-era excess. But the 1980s began on a different note; it was a time of austerity and deregulation, the beginning of the Reagan era in America and the Thatcher era in Britain. Under Thatcher, there was among the general populace a great deal of suspicion about what the government was up to, a feeling which was reflected in British films of the era. And it was in this spirit that John Glen, directing his first Bond film, producer Albert R. Broccoli and scriptwriter Richard Maibaum re-evaluated James Bond and decided that, having gone about as far as possible with fantasy, the time had come to re-ground 007 in reality. Glen, who had edited director Peter Hunt's On Her Majesty's Secret Service, signals this in the very first scenes, when we are introduced to 007 standing at the grave of his late wife — an homage to Hunt's 007 film, which had also eschewed the space elements of the previous film, You Only Live Twice, to bring Bond back to a more human level. As with On Her Majesty's Secret Service, For Your Eyes Only is light on Q's gadgetry (though gadgets would make a roaring return in Octopussy), focusing more on Bond's wits and athletic prowess to get him out of jams. And the plot, with its overriding theme of trust and betrayal, mirrored the zeitgeist of the period, making it a very timely 007 film. It was a reboot that the series needed at that point, and while it still had its moments of cheesy humor (a product of Cubby Broccoli's belief that the Bond films were family entertainment and thus needed humor — he provided Blofeld's "I'll buy you a delicatessen, in stainless steel" line that is such a groaner it even overpowers Bond's "keep your hair on" quip), in its more serious moments it gives viewers a James Bond who had been largely absent from the screen since From Russia With Love, and set the tone of seriousness sprinkled with levity and outrageous stunts that would continue through the remaining 007 films of the 1980s.
Coate: When did you first see For Your Eyes Only and what did you think?
Christie: I first saw the film on TV in the mid-eighties. (There's a long-running British tradition of screening a Bond film at Christmas and Bank Holidays, and such was their popularity that the country's electricity grid used to surge during the commercial breaks because that's when viewers would put on their kettle to make a cup of tea!) The first thing that occurred to me was just how different For Your Eyes Only seemed when compared to its immediate predecessor, Lewis Gilbert's Moonraker. There was a sense that the previous film had pushed the envelope just about as far as it could go — the lavish globetrotting escapades, the global Armageddon scenario, and even laser battles in planetary orbit. So it came as a breath of fresh air to see the more fantastical trappings dispensed with for a while, and a long overdue return to the kind of Cold War espionage plotlines that had made films such as Terence Young's From Russia with Love so successful. It may have been a gamble for the production team to have corrected the course of the series quite so sharply, given audience expectation of visual spectacle and high-octane action, but it was one which paid off in the eyes of many critics.
Cork: True story. I took a couple of days off from my summer job, flew standby to London with a rented tux and I snuck into the world premiere at the Odeon Leicester Square. I watched the entire film standing up in the back of the theater because I didn't have a ticket and it was assigned seating, of course. I purchased four premiere programs and pretended I was one of the guys selling them. (Kids, don't try that!) John Lennon had been shot in December. Reagan was shot at the end of March, someone had fired a starter pistol when the Queen was on parade, Prince Charles and then Lady Diana were attending, the IRA was a real menace at that time, and my last name was about as Irish as you can get — Cork. I was lucky I didn't end up in Dartmoor prison!.... When you are as big a James Bond fan as I was and you sneak into a premiere, you are predisposed to love the film. It had a great title song, a nod to On Her Majesty's Secret Service, the reappearance of Blofeld (unnamed, but obvious) and 007 back on skis. So on that first viewing, I loved the film. Until Margaret Thatcher showed up. In later viewings, I developed the same level of fondness for stainless-steel delicatessens, The-Important-Clue-Giving-Parrot™, Ferrara (AKA, the dead-man-walking), the world's slowest underwater submarine battle, and Bond's offer to buy Bibi Dahl an ice cream cone. The keel-hauling scene, though, remains one of the great Bond sequences. In many ways, the film was a delight because, as a fan of Fleming, it was so great to see so many scenes taken from the books.
Desowitz: I saw it on its initial release in L.A. and it immediately impressed me as a dramatic departure during the Moore era. There's more at stake emotionally for Moore's Bond. His tender encounter with Cassandra Harris' Lisl is noteworthy. And although he's not as comfortable being ruthless, it's more successful than the awkward scene in The Man with the Golden Gun when he tries to strong-arm Maud Adams' Andrea. It's interesting that when I asked Moore about the darker revenge theme he denied it and said he doesn't self-analyze. But then he discussed the contentious execution of Locque in his book, My Word is My Bond. He quarreled with Glen about being so cold-blooded (a swift kick to the car that sends him to his death) and that it wasn't true to his Bond, but the director prevailed and Moore performed the scene as requested.
Pfeiffer: I saw it at a critic's advance screening in New York City shortly before the general release. I didn't like it at first. While I appreciated the fact that the film afforded Roger Moore some dramatic sequences to work with that brought out the best in him, I thought that the film still contained far too much slapstick humor. The pre-credits sequence was very well done but completely undermined by the bizarre Blofeld clone and the ridiculous dialogue between Bond and him. When 007 dumps him into a smoke stack, I almost walked out. I also thought the requisite car chase was extraordinarily lame and that the character of Bibi Dahl was badly written and undermined the film as a whole. However, with subsequent viewings, the film began to grow on me. It gets much better as it goes along. In fact, you can trace the exact moment that the film improves: it's when Topol first appears on screen as Bond's soon-to-be ally Columbo. He's a great character and adds immeasurably to the film. Topol and Moore enjoy some terrific chemistry and from that point on, the movie improves by the minute. I have mixed feelings about Bill Conti's disco-heavy score, but I love the title song sung by Sheena Easton.
Scivally: I first saw For Your Eyes Only in the summer of 1981 in a theater in Huntsville, Alabama, with my brother. Having disliked Moonraker, I went in with low expectations. They were met. I appreciated that they were trying a different approach, but even with its over-the-top stunts, it felt rather small and tame without the Ken Adam sets and John Barry music.