"The show is completely stolen by Wint and Kidd. They should have had their own series." — 007 historian and documentarian John Cork
The Digital Bits is pleased to present this retrospective commemorating the 45th anniversary of the release of Diamonds Are Forever, the seventh (official) cinematic James Bond adventure and, most notably, the final appearance of Sean Connery in an EON-produced 007 movie.
As with our previous 007 articles (see Casino Royale, For Your Eyes Only, Thunderball, GoldenEye, A View to a Kill, On Her Majesty's Secret Service, Goldfinger, and 007… Fifty Years Strong), The Bits and History, Legacy & Showmanship continue the series with this retrospective featuring a Q&A with an esteemed group of James Bond scholars, documentarians and historians who discuss the virtues, shortcomings and legacy of Diamonds Are Forever. [Read on here...]
The participants (in alphabetical order)…
Jon Burlingame is the author of The Music of James Bond (Oxford University Press, 2012). He also authored Sound and Vision: 60 Years of Motion Picture Soundtracks (Watson-Guptill, 2000) and TV's Biggest Hits: The Story of Television Themes from Dragnet to Friends (Schirmer, 1996). He writes regularly for the entertainment industry trade Variety and has also been published in The Hollywood Reporter, Los Angeles Times, The New York Times, and The Washington Post. He started writing about spy music for the 1970s fanzine File Forty and has since produced seven CDs of original music from The Man from U.N.C.L.E. for the Film Score Monthly label. His website is www.jonburlingame.com.
John Cork is the author (with Collin Stutz) of James Bond Encyclopedia (DK, 2007) and (with Bruce Scivally) James Bond: The Legacy (Abrams, 2002) and (with Maryam d'Abo) Bond Girls Are Forever: The Women of James Bond (Abrams, 2003). He is the president of Cloverland, a multi-media production company, producing documentaries and supplemental material for movies on DVD and Blu-ray, including material for Chariots of Fire, The Hustler, and many of the James Bond and Pink Panther titles. Cork also wrote the screenplay to The Long Walk Home (1990), starring Whoopi Goldberg and Sissy Spacek. He recently wrote and directed the feature documentary You Belong to Me: Sex, Race and Murder on the Suwannee River for producers Jude Hagin and Hillary Saltzman (daughter of original Bond producer, Harry Saltzman); the film is available on iTunes, Google Play and other streaming platforms.
Bill Desowitz is the author of James Bond Unmasked (Spies, 2012). He is the owner of Immersed in Movies, a contributor to Thompson on Hollywood at Indiewire and contributing editor of Animation Scoop at Indiewire. He has also contributed to the Los Angeles Times and USA Today.
Lee Pfeiffer is the author (with Philip Lisa) of The Incredible World of 007: An Authorized Celebration of James Bond (Citadel, 1992) and The Films of Sean Connery (Citadel, 2001), and (with Dave Worrall) The Essential Bond: The Authorized Guide to the World of 007 (Boxtree, 1998/Harper Collins, 1999). He also wrote (with Michael Lewis) The Films of Harrison Ford (Citadel, 2002) and (with Dave Worrall) The Great Fox War Movies (20th Century Fox Home Entertainment, 2006). Lee was a producer on the Goldfinger and Thunderball Special Edition LaserDisc sets and is the founder (with Dave Worrall) and Editor-in-Chief of Cinema Retro magazine, which celebrates films of the 1960s and 1970s and is "the Essential Guide to Cult and Classic Movies."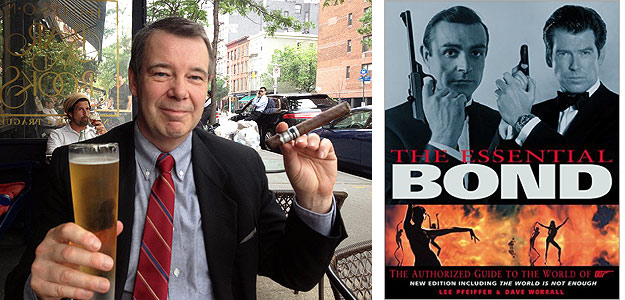 Bruce Scivally is the author (with John Cork) of James Bond: The Legacy (Abrams, 2002). He has also written Superman on Film, Television, Radio & Broadway (McFarland, 2006), Billion Dollar Batman: A History of the Caped Crusader on Film, Radio and Television from 10¢ Comic Book to Global Icon (Henry Gray, 2011), and Dracula FAQ: All That's Left to Know About the Count from Transylvania (Backbeat, 2015). As well, he has written and produced numerous documentaries and featurettes that have appeared as supplemental material on LaserDisc, DVD and Blu-ray Disc, including several of the Charlie Chan, James Bond, and Pink Panther releases. He is Vice President of New Dimension Media in Chicago, Illinois.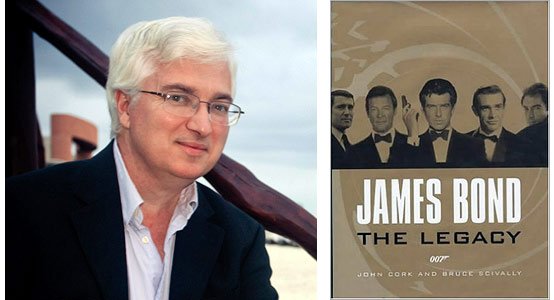 The interviews were conducted separately and have been edited into a "roundtable" conversation format.
And now that the participants have been introduced, might I suggest preparing a martini (shaken, not stirred, of course) and cueing up the soundtrack album to Diamonds Are Forever, and then enjoy the conversation with these James Bond authorities.
Michael Coate (The Digital Bits): In what way is Diamonds Are Forever worthy of celebration on its 45th anniversary?
Jon Burlingame: Oh, there are so many reasons. First, it marked the unexpected comeback of Sean Connery to the role of 007. He left on such unpleasant terms after You Only Live Twice that I think we were all surprised to see him again. Second, it was the first Bond film to be set largely in the United States. Third, it has one of the greatest Bond scores ever — and very possibly the greatest Bond song ever, sung by our Goldfinger diva Shirley Bassey, making her second appearance in a Bond film.
John Cork: Diamonds Are Forever is the great creative collaboration of four wonderful men who will never give us another film to enjoy: Guy Hamilton, Tom Mankiewicz, John Barry and Ken Adam. Each of these absolutely brilliant creators made films that are completely worthy to see on their own, but Diamonds melded their wit, their artistry, their elegance and their skills into a uniquely joyous brew. From "C-C-C-Cairo" to "Mouton Rothschild is a claret," the film makes viewers smile. It is exactly the kind of film that Cubby Broccoli loved to produce: handsome men, beautiful women, tension, laughs, lavish sets, exotic locations, wonderful music and an ending that had viewers leaving the cinemas with a bounce in their step. The remarkable part of that is, Cubby didn't set the tone of Diamonds. That was the work of UA's David Picker.
Bill Desowitz: Diamonds Are Forever is noteworthy for two reasons: It marked Sean Connery's last official appearance as Bond and tipped the franchise in a lighter, kitschy direction in the'70s, which anticipates the Roger Moore era. If you don't compare it to the first three Connery films, it's actually a fun ride. Connery enjoys camping it up but still has the presence to pull it off. At the same time, his Bond is actually more assertive. Guy Hamilton was back and newbie screenwriter Tom Mankiewicz added the sharp wit, which even extended to the action (the Moon buggy and Vegas chases are pretty over the top). Blofeld is campy fun and Wint and Kidd are a hoot as the franchise's first gay couple. It wasn't From Russia with Love, but it was Connery saying goodbye with tongue very much in cheek.
Lee Pfeiffer: The film is worthy of commemoration primarily because it marked Sean Connery's return to the role after having quit the series four years earlier. It's worth commemorating, for better or worse, the fact that it was with this film that overt humor would became a part of the series for decades to come.
Bruce Scivally: Diamonds Are Forever, is a middling Bond — not the worst of the series, certainly not the best, but with enough enjoyable moments to make for pleasant viewing. As the first James Bond film of the 1970s, it set the course for the Bond films of the 1970s — lighter, breezier, driven more by "set piece" action stunts than tight plotting, and deliberately seeking to give audiences a good time. The'70s was not a decade when James Bond films took chances. It was a decade that began with scaled-back cost-cutting of the Bond films, and ended with two of the most extravagant entries in the series. After the much more Fleming-esque On Her Majesty's Secret Service capped off the 1960s as a box-office disappointment, the Bond producers reinvented Bond for the 1970s as more of a cartoon character, a live-action Road Runner cartoon, with only passing nods to the Ian Fleming source material. While other films of the early to mid-1970s took chances, providing some of the greatest films of all time, the Bond series played it safe, content to merely be entertaining. It was a strategy that kept Bond popular, if not relevant, through the Watergate era and beyond.
Coate: Describe what it was like seeing Diamonds Are Forever for the first time?
Burlingame: I was in college at the time, so undoubtedly it was with my dorm buddies (which inevitably meant a lot of lecherous comments about Jill St. John, Lana Wood and the "Bambi & Thumper" girls). We were all Bond fans and I was already a John Barry nut. My memory is that we were all glad to see Connery back but did not feel that it ranked among the stronger entries like Goldfinger, Thunderball and From Russia with Love. But any Bond film was great to us in those days. There was nothing else like it in theaters — the action, the suspense, the humor, the series remained unique in cinema entertainment. And, of course, I could not wait to get hold of the LP in order to savor not only that memorable title song but also some of John Barry's powerful score.
Cork: I saw Diamonds Are Forever in Montgomery, Alabama, in either late-December 1971 or early 1972. I went with my grandparents. I enjoyed it, but I was not hooked as a James Bond fan. The plot (such that it is) still makes virtually no sense, and I think that I was lost early on. It was not a film that stayed in my mind, probably because few of my friends saw it so it was not a movie that we discussed. The next time I saw it was when it premiered on U.S. television on September 12th, 1975. By then I was a huge Bond fan. I was so enraptured that during a late commercial break, I ran and got my cassette recorder and taped the audio of the end of movie. I used to listen to the dialog over and over. The recording began, appropriately enough with Blofeld ejecting a cassette and uttering, "I do so hate martial music."
Desowitz: The first viewing was actually my first Bond experience at the Chinese Theater in Hollywood. And it was very memorable. It was an early afternoon screening and the second of the day. As much as I liked On Her Majesty's Secret Service, it was great seeing Connery return to battle Blofeld. It was packed and everyone had a good time, though, again, it was a far cry from Connery in his prime.
Pfeiffer: I saw it on opening day, the first show after I got out of high school class (I was a sophomore at the time). My friends and I were quite thrilled to see Connery returning as Bond. We had all been highly impressed with the previous film On Her Majesty's Secret Service and with George Lazenby, as well. The disappointment we felt when it was announced he was leaving the series after only one film was offset when I heard a TV report by gossip columnist Rona Barrett that Connery was to come back to the role of 007. There was enormous interest in the film and quite a bit of coverage leading up to the final release date.
Scivally: The first time I saw Diamonds Are Forever is when it was first broadcast on ABC television in the 1970s. Seeing the Bond films on TV, Diamonds Are Forever was one of my favorites, and From Russia with Love one of my least favorite. In the early 1980s, when I had to opportunity to see the Bond films at the "revival house" theaters in Los Angeles, my feelings reversed; I now regard From Russia with Love one of the best, and Diamonds Are Forever only so-so. Why the change? I think it's because the earlier film is one that is much more intricately plotted and requires more of the viewer's attention; cutting it up with commercials destroys the flow of the story. Diamonds Are Forever, on the other hand, is very episodic. It's more like a series of mini-movies tied together with a mere suggestion of a plot; chopping it up with advertisements has little effect on it. Like John Cork, I tape-recorded the film when it was shown on TV. To this day, I can recite every line of the pre-credits. Skills. I have skills….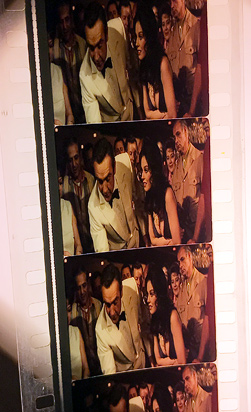 Coate: Where do you think Diamonds ranks among the James Bond movie series?
Burlingame: That's hard to say. I think it's certainly the least significant of the Connery Bonds. To me it begins the downhill slide of the series in the 1970s, with a script that's a bit too jokey, a climax that seems rushed and inadequate, and a Connery who doesn't seem very interested in what was going on. But I'd take Diamonds over many of the even sillier Roger Moore outings. And, as you know, I love the song and the score. It was the most musically diverse Bond yet, with a third of the score being the wonderful Las Vegas jazz; a theme for subsidiary villains Wint and Kidd; a grand outer-space number (007 and Counting) and a title song that was not only useful for the romantic scenes but also dramatic moments as well. The release of the expanded Diamonds soundtrack in 2003 demonstrated its range and power far better than the original 1971 LP.
Cork: My son made me rank the films a few years back when we marathoned them. I put it smack in the middle then. I just re-watched it on a trip to Amsterdam and I just had so much fun with it. It is such a different film from Casino Royale (2006) or Skyfall, and it seems unfair to judge it against those. It's nothing like On Her Majesty's Secret Service, but I find it much more fun than You Only Live Twice. It is a great Bond film to revisit at one's leisure. It is also a fine film to watch in small doses.
Desowitz: I would rank it last among the Connery films and maybe 16th overall. It's more like a guilty pleasure today. Funny thing: I was at a reception a week ago and Bruce Glover was there. I went up to him and asked how Wint and Kidd were and he smiled and said, "I'm Wint."
Pfeiffer: Diamonds was the first Bond film that left my friends and I feeling disappointed. The film wasn't as sharp or exciting as the previous movies. The emphasis on humor seemed to be a misstep especially after the haunting final image of On Her Majesty's Secret Service. We all expected a continuation of that storyline. The movie starts off on that premise with Bond hunting down Blofeld presumably for murdering his wife. The first part of the film is engrossing and seems to be on track to be a winner but things go downhill once Bond gets involved with Tiffany Case. Initially she's played by Jill St. John as a tough-talking, streetwise accomplice to a smuggling ring. Yet, a few scenes later she inexplicably morphs into a Lucille Ball clone — an inept, naive character who doesn't provide much substance to the plot — or Bond — beyond sex appeal. The Case character's seeming schizophrenia is representative of the film as a whole. It's as though it was made by two competing teams of filmmakers and writers, each with a different vision of the story. Most of the trouble stems from the script, which was co-authored by long time Bond scribe Richard Maibaum and newcomer Tom Mankiewicz. Evidence would suggest that Mankiewicz's vision prevailed since the movie is far more over-the-top in the gags department than anything Maibaum had previously written for the earlier films. Guy Hamilton's direction is also all over the map, starting out strong and reaching its zenith with the elevator fight, which is the real action highlight of the film despite the elaborate chase sequences that come later in the film. Sometime later, Hamilton seems more interested in going for cheap laughs and wisecracks rather than presenting suspenseful scenarios. (He once told this writer that he tried to have a major action set piece staged in Disneyland with Bond fighting SPECTRE agents dressed like Disney characters!) The real disappointment comes with the Bond/Blofeld relationship, which doesn't ring true at all. The casting of Charles Gray is also a major error. Gray is a fine actor and if they called his character anything but "Blofeld", one could admire his witty performance. However, he doesn't evoke the slightest traits that audiences had expected of Blofeld. First there is a complete lack of physical resemblance to the actors who preceded him (he's not even bald!). Then there is his penchant for making quips — something that neither Telly Savalas nor Donald Pleasence had brought to their versions of the character. What is inexplicable is the cozy, humorous relationship Bond establishes with this Blofeld, which is all the more ludicrous given the fact that in the first frames of the film, Bond is on his mission of vengeance to see Blofeld dead. Yet when they finally do meet up, the two engage in some mutually witty banter and Bond seems to have forgotten the unpleasant fact that this man had murdered his wife, Tracy, in the previous film. The watering down of Blofeld goes into overdrive when he actually dresses in drag. The horror, the horror…. Not helping matters is that Gray appeared in another Bond film, You Only Live Twice, a scant four years before as Bond's ally. So that image was still fresh in viewer's minds when they were asked to accept him as Blofeld…. The film also suffers from casting errors that extend beyond Charles Gray. As mentioned previously, Jill St. John plays the same kind of "dumb broad" eye candy she had popularized in films such as Tony Rome or Come Blow Your Horn. The shtick was already kind of stale by 1971. It might have been more inventive for the producers to cast Lana Wood, who appears memorably but briefly, as Plenty O'Toole in the role of Tiffany Case. The role of Felix Leiter is played by Norman Burton, thus continuing an annoying pattern of casting a different actor in the role every time he appeared in a Bond film. Burton plays Leiter as a bit of a semi- doofus and there isn't any way a viewer would believe that his Leiter and Bond are close colleagues. More successful is the casting of Bruce Glover and Putter Smith as gay assassins Mr. Wint and Mr. Kidd. They are a memorable team but watching the abundance of gay-bashing jokes today is a bit cringe inducing when some of us realize we thought this stuff was funny in 1971. I do like the casting of country singer (and frozen sausage magnate) Jimmy Dean as reclusive billionaire Willard Whyte. It's an off-beat choice that works well. Similarly, some of the bit roles are well cast: Bruce Cabot (in his final screen appearance), Joe Robinson as the bad guy who goes mano-a-mano with Connery in the elevator fight and, of course, reliable regulars such as Desmond Llewelyn, Bernard Lee and Lois Maxwell… along with a welcome appearance by Laurence Naismith…. The climax of the movie was most disappointing — a rather limp affair in which helicopters attack Blofeld's oil rig in a scenario that seemed as improbable as his main scheme. He has gathered enough diamonds to launch them encrusted in satellite and threatens to destroy key cities around the world unless paid a ransom. Not for nothing', but if you already have enough wealth to launch a diamond-encrusted satellite, exactly what is it that a ransom would buy you that you wouldn't already have? The helicopter sequence is also rather blandly executed with some poor special effects (a problem with the film that is apparent earlier). Surely the major powers of the world could have taken down one little bitty oil rig with a well-aimed rocket or torpedo instead of a conventional WWII-era assault by helicopters…. Having denounced much of Diamonds Are Forever, there are plenty of things that make it watchable. Connery seems to be having a great deal of fun and that enthusiasm spills over into his performance. Ken Adam's sets are up to par and John Barry's score and the theme song are among the best in the Bond canon.
Scivally: As I stated before, it's a middling film to me. I still enjoy watching it, despite its drawbacks. Sean Connery looked to have aged about 20 years, even though only 10 had passed since Dr. No, but he seems to be having fun in his return to the role. The quick production schedule seems to have infused the film with a certain energy, and the witty dialogue of Tom Mankiewicz lifts it considerably. Everything about the film is fun, including the villains. There's absolutely nothing frightening or scary or remotely threatening about Blofeld (more on him below) or about Wint and Kidd, but what they lack in threat they more than make up for in personality. These are villains who could hold their own at the Algonquin Round Table, trading bon mots with Dorothy Parker and Robert Benchley, then casually murdering them on the way out.