Displaying items by tag: Bob Clark
Monday, 19 November 2018 13:14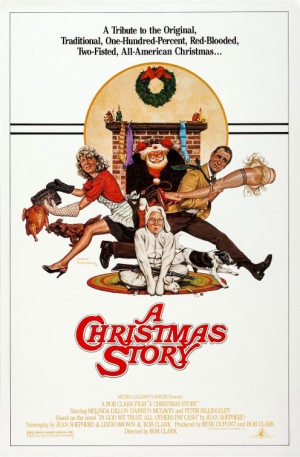 "A Christmas Story should be remembered as a small film that had a very large impact." – Caseen Gaines, author of A Christmas Story: Behind the Scenes of a Holiday Classic
The Digital Bits and History, Legacy & Showmanship are pleased to present this retrospective commemorating the 35th anniversary of the release of A Christmas Story, the humorous and now-classic Christmas-themed film based upon the writings of Jean Shepherd and directed by Bob Clark (Black Christmas, Porky's).
Featuring Melinda Dillon (Close Encounters of the Third Kind), Darren McGavin (Kolchak: The Night Stalker) and Peter Billingsley (The Dirt Bike Kid) as Ralphie, A Christmas Story opened in theaters across North America 35 years ago this month, and for the occasion The Bits features a Q&A with a trio of historians and pop culture authorities who discuss the film's enduring appeal. [Read on here...]
Monday, 05 December 2016 17:00
Welcome to our newest column addition Scream for a Week!
We here at The Digital Bits are big fans of Shout!'s Scream Factory division and, not unlike Todd Doogan's Criterion Spines Project, we wanted to cover Scream Factory's releases by catching up on a bunch that we've missed while acknowledging the previous ones. We'll also be covering new ones here as well. This column will go up on a bi-weekly basis, so be sure to check back in another two weeks for another pile of Scream Factory goodness.
First up is a double feature of Tales from the Crypt and Vault of Horror, both terrific horror anthologies. Tales from the Crypt in particular contains one of the creepiest and more effective Christmas horror stories. Speaking of Christmas, new on the slate is a Collector's Edition of Black Christmas, a title long sought after by Scream Factory fans and one that I believe many will feel was worth the wait. Also new on the chopping block is Jack's Back, a great little thriller mostly forgotten by genre fans. Next is George A. Romero's Monkey Shines, one of his most enjoyable non-Dead movies. And last but not least is a double feature of TerrorVision and The Video Dead, one of Scream Factory's earliest releases and still one of their most fun. [Read on here…]