Displaying items by tag: Downton Abbey: The Movie 4K
Today's post here at The Bits is a quick one, as we have family visiting this week. However, we do have a little bit of release news and a couple more new reviews for you as well...
First up, I've given Cameron Crowe's semi-autobiographical love letter to rock music, Almost Famous, a look in a fantastic new 2-disc 4K Ultra HD Steelbook edition from Paramount. The remaster is gorgeous, the set includes two UHD discs—one each for the different versions of the film—it carries over all of the legacy extras, and it adds some new ones too. It's a great set, so do give it a look if you're a fan of the film.
Also, Stephen has reviewed Tony Scott's True Romance as newly-released on 4K Ultra HD by Arrow Video, a UK import title that's also apparently a pretty great remaster and worth considering.
And if you check back tomorrow, I'll have a review of another 4K import title: Rian Johnson's Looper from Entertainment One. [Read on here...]
Tuesday, 05 November 2019 16:25
Tuesday, 17 September 2019 17:38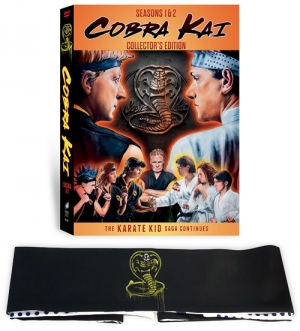 We've got a couple interesting bits of release news for you today...
We've learned that Sony Pictures Home Entertainment is releasing a Cobra Kai: Seasons 1 & 2 – Collector's Edition DVD set on 11/12, complete with bonus scenes, gag reels, Easter eggs, and 4 featurettes (Fists & Fury: Fight Choreography, Into the Dojo: The Characters, Cast Chemistry Reads, and Exploring the Musical Identities of Cobra Kai and Miyagi-Do with Composers) as well as Musical Performances at the Whiskey a Go-Go with Guest William Zabka. And the package will include a reversible headband. You can see the cover artwork at left.
The title will also be available digitally that day, but – and this is confirmed – there is no Blu-ray release planned. (Please direct your complaints to the relevant studio via social media.) [Read on here...]