Displaying items by tag: Churchill
Tuesday, 12 September 2017 18:21
We've got a few things for you today here at The Bits, so let's get right to it...
First up, we've posted a trio of new disc reviews, including Tim's thoughts on Arrow's The Slayer and Sony's The Amazing Spider-Man: Limited Edition Collection on Blu-ray, and also Jim Hemphill's take on CBS's NCIS: The Complete Fourteenth Season on DVD. Enjoy and know that more reviews are on the way, including more 4K!
Also here at The Bits today, we've just posted the weekly Release Dates and Artwork update, featuring all the latest Blu-ray, 3D, DVD & 4K Ultra HD cover artwork and Amazon.com pre-order links. As always, whenever you order literally anything from Amazon (in the same session) after clicking through to them from our links, you're helping to support our work here at The Bits and we appreciate it very much. [Read on here…]
Tuesday, 25 July 2017 17:40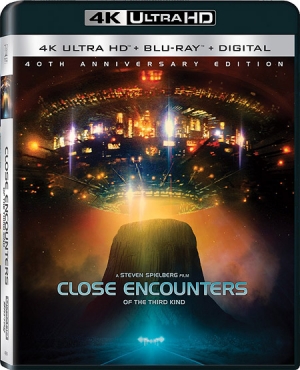 All right, we promised more release news today, and more release news we've got for you...
Starting with this: Sony Pictures is releasing Steven Spielberg's Close Encounters of the Third Kind on Blu-ray and 4K Ultra HD on 9/19, in honor of the film's 40th anniversary and fully-remastered in 4K. The film is also being re-released into theaters on 9/1. We don't have details yet on any new extras (nor audio and HDR), but you can assume that all the previous Blu-ray extras will carry over. You can see the final cover artwork to the left and below, and both SKUs are now available for pre-order on Amazon.com by clicking here and here. There's also a deluxe 4K/BD edition that includes a 64-page book and packaging that lights up and plays the film's iconic theme.
Sony Pictures Home Entertainment will also release Jonathan Teplitzky's Churchill on Blu-ray and DVD on 10/3. The film stars Brian Cox, Miranda Richardson, and John Slattery. [Read on here…]