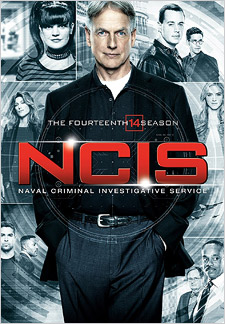 Director
Various
Release Date(s)
2017 (August 29, 2017)
Studio(s)
Belisarius Productions/CBS Television (Paramount)
Film/Program Grade: A
Video Grade: B
Audio Grade: B
Extras Grade: B+
Review
NCIS has long been one of the most popular series on television, yet it's also one of the most underrated; it's been so reliable for so many years that it's easy to take it for granted. Yet if the new Season 14 DVD boxed set proves anything, it's that NCIS has only gotten better with age. Rather than resting on their laurels, the cast, writers, and crew have taken full advantage of the opportunities a long running show provides – opportunities to dig deeper into the characters, finding new emotional shadings and making revelatory observations. Season 14 introduces three new agents (played by Jennifer Esposito, Duane Henry, and Wilmer Valderrama), all of whom are compelling and add rich texture to the series. Yet the most satisfying and profound pleasures of the season involve the stalwarts: Abby Sciuto (Pauley Perrette), Donald Mallard (David McCallum), Timothy McGee (Sean Murray), Jimmy Palmer (Brian Dietzen), Leon Vance (Rocky Carroll), Ellie Bishop (Emily Wickersham), and, of course, team leader Leroy Jethro Gibbs (Mark Harmon).
In lesser hands the fact that these characters have been on the air for so long would mean that there was nothing left for them to reveal, but showrunners Frank Cardea and George Schenck and their writing staff take the opposite position. For them, the show's longevity is liberating – it means they can slow down and burrow further into the complexities of each and every protagonist. All of the regular cast members get episodes in which they're allowed to play notes on the emotional scale that we've never seen before: Wickersham is both effervescent and devastating in a love story that ends tragically; Perrette gets outside the lab for a particularly intense episode (beautifully scripted by Christopher J. Waild) that crosses over with sister show NCIS: New Orleans; and Carroll – who also directed one of the season's best episodes – forges an intriguing relationship with a congresswoman played by Mary Stuart Masterson. Several episodes also employ ingenious flashback structures to provide fascinating new insights into characters like Mallard, McGee, and Palmer, and throughout all of this Harmon remains the show's anchor, strong and understated as he reveals new layers to his character via subtle, restrained gestures and line readings.
All of the actors rise to the challenge of juggling more disparate tones than ever before on the series, as Season 14 encompasses everything from giddy comedy to wrenching personal tragedy, sometimes in the same episode. Again, the fact that the series has been around so long has made its makers bolder rather than safer or lazier – the writers take more chances with their material than ever before, and in the hands of the show's supremely talented actors and directors every chance pays off. In a season filled with standout episodes, one of my favorites is Nonstop, which brings back a fan favorite, Anthony DiNozzo, Sr. (Robert Wagner) for a mystery that's as unpredictable as it is hilarious. Writer Brendan Fehily's script is a master class in the integration of character, theme, and plot, as he crafts a meticulous mystery story that leaves room for character development and instructive digressions yet doesn't slow don't for a second. It's fast paced yet relaxed, and director Mark Horowitz maintains a breezy humorous tone without sacrificing the dramatic heft of the more serious ramifications of the murder mystery. It's the kind of filmmaking that looks easy but isn't – it takes a lot of effort to create something this "effortless."
This speaks to another advantage of NCIS's longevity: the purity of its visual design, which has been distilled over fourteen seasons into an elegant yet kinetic style. When NCIS began it tended toward frenetic movement and cutting that got the viewer's attention but was a bit self-conscious; too often the camera felt like it was yanking the action around instead of responding to and intensifying it. After the show became a success, the creators seemed to relax a little and backed off of their more hyperactive techniques (excessive handheld camera moves, jump cuts, etc.). The camera continued moving and the cutting retained its speed and dynamism, but the style started to serve the stories and performances instead of intruding upon them. That approach has continued to evolve to the point that there's a seamless integration of content and form on the series, largely thanks to the proficient lensing of cameraman William Webb, who has served as the show's director of photography since the pilot episode in 2003. Webb's background as a Steadicam operator is relevant here, as NCIS exhibits some of the most impressive Steadicam work in all of television – when Webb is matched up with a director who shares his flair for fluid choreography and blocking, the results can be positively stunning.
A case in point is The Wall, an episode directed by Bethany Rooney. A filmmaker of immense range and ability who has done superb work on everything from comic book series (Arrow) and musicals (Nashville) to teen soap operas (Pretty Little Liars) and action-comedies (Lethal Weapon), Rooney is a master at expressing emotion through camera position and movement; in The Wall, she deftly balances the multiple points of view of the series through expressive compositions and subtle shifts in angle that mirror the shifts in perspective. She also gets a beautiful performance out of guest star Bruce McGill as a Vietnam veteran with an acidic demeanor; when his shell cracks, it's an exquisitely heartbreaking moment in which Rooney and Webb's camerawork comes together with a great actor's talent to yield surprisingly moving effects. Rooney's other episode of the season, Beastmaster, is possibly even better, and in less obvious ways – it's filled with interactions between the ensemble that are natural, funny, and expertly but unobtrusively staged. Binging the Season 14 DVD collection is a great way to appreciate not only Rooney's work but that of many other fine directors on the series, and the set comes with a number of enlightening supplementary features that include commentary tracks by writers, directors, and actors as well as about a half-hour worth of interviews with key cast and crew members. The video and audio quality is solid, but what really makes the package worthwhile are the commentary tracks and the content – one of the most dependable shows in the history of TV.
- Jim Hemphill
Tags
action police procedural
,
Brian Dietzen
,
CBS
,
David McCallum
,
drama
,
Duane Henry
,
DVD
,
Emily Wickersham
,
Jennifer Esposito
,
Jim Hemphill
,
Mark Harmon
,
Naval Criminal Investigative Service
,
NCIS
,
Paramount
,
Pauley Perrette
,
review
,
Rocky Carroll
,
Sean Murray
,
television
,
The Digital Bits
,
The Fourteenth Season
,
TV series
,
US Navy
,
Wilmer Valderrama