Displaying items by tag: I Can Hear the Sea
Monday, 20 February 2017 19:18
All right, today is a work holiday for many here in the U.S., but we do have some interesting new release news for you all regardless.
First up, new signals from retail sources (including Walmart, Target, Best Buy, and others) are suggesting that Disney and Lucasfilm are planning to release Rogue One: A Star Wars Story on Blu-ray, Blu-ray 3D, and DVD on 4/4, instead of the date previously listed by retailers which was 3/28. Until this weekend, Best Buy was taking pre-orders with no date listed, but that's now been pulled, suggesting that an official announcement may be coming any day. Stay tuned for official details.
Speaking of Disney, the studio has confirmed that it's currently working on new Walt Disney Signature Edition Blu-ray releases of Fantasia and Bambi. The latter film has been out of print on Blu-ray here in the States for a number of years now, so that's certainly good news for fans. You can learn a bit more here. [Read on here…]
Friday, 01 May 2015 14:30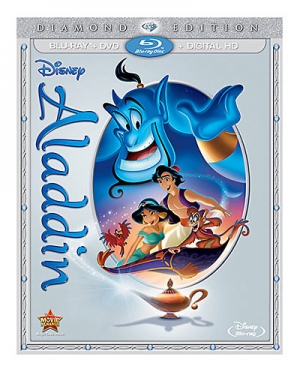 [Editor's Note: Be sure to like TheDigitalBits.com page on Facebook for breaking news, site updates on the go, discussion with our staff and other readers, giveaways and more!]
All right, just a quick update today, but we DO have some pretty exciting news to report...
First, Disney has just set their Aladdin: Diamond Edition for Blu-ray release on 10/13 (SRP $36.99). We know this because Amazon is already taking pre-orders on it. We're waiting to hear more about the content and extras (we think the official press announcement is a few weeks away yet), but you can see the Blu-ray cover artwork on the left there and you can pre-order it on Amazon by clicking here or on the cover image below. [Read on here…]