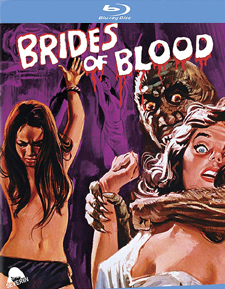 Director
Gerardo de Leon/Eddie Romero
Release Date(s)
1968 (November 13, 2018)
Studio(s)
Valiant Films/Hemisphere Pictures (Severin Films)
Film/Program Grade: B+
Video Grade: A-
Audio Grade: C+
Extras Grade: B+
Review
The Blood Island series encompasses four low budget horror ventures made in the Philippines by directors Gerardo de Leon and Eddie Romero throughout the 1960s and early 1970s. The four films, Terror is a Man, Brides of Blood, Mad Doctor of Blood Island, and Beast of Blood, were mostly co-directed by the two, while the latter was helmed by Romero himself, always present as an active producer. Each of the four films were also successful with drive-in audiences, giving them a taste of the exploitation boom that would soon come into being.
Brides of Blood followed eight years after the success of Terror is a Man. While it's the second in the Blood Island series, it's the first of three films to feature actor John Ashley. He stars as Jim, a researcher who arrives on a tropical island with Dr. Henderson (Kent Taylor) and his wife Carla (Beverly Powers aka Beverly Hills) to investigate possible radioactivity from atomic bomb testings. The three stay at the home of the aristocratic Esteban (Mario Montenegro) and his servant Goro (Bruno Punzalan). While roaming the island, they encounter man-eating plants, mutated animals, and a hideous monster, whom the natives offer virginal Filipinas to as sacrifices. Eventually, Farrell and Henderson discover the horrible truth behind this grotesque atrocity against nature, but not before the natives attempt to stop them in fear of retaliation.
Also known as Island of Living Horror, Brides of Blood is fairly sleazy, Z-grade fare. However, the poor performances, terrible make-up effects, and flawed editing actually make it fun to watch. It will also leave you with many unanswered questions, like why exactly does the beast need to apparently rape women, or why was Carla even married to Dr. Henderson in the first place? In the film's sexy subplot, Carla is a sexually-frustrated woman looking to hop into bed with anybody, and her husband doesn't seem to be aroused by her advances at all, which is beyond all comprehension. The film is also filled with much more gore and nudity than its predecessor. Unsurprisingly, there was continued success, and John Ashley and Eddie Romero would continue to work together for many years, making several more films in the same vein.
Despite being beloved films by deep-seated horror film fans, Eddie Romero considers the Blood Island films to be the worst that he ever took part in. While you can certainly understand why he would feel that way, it's easy to see the charm in these films. They're not meant to be anything more than what they are: exploitative monster movies meant to entertain teenagers who would naturally be spending the majority of the running time doing other things. But even with their limitations, the fact that the Blood Island series is comprehensible at all is saying something.
Severin Films brings Brides of Blood in its uncut form to Blu-ray separately from its inclusion in The Blood Island Collection. It contains a "new 4K scan from a recently discovered 35mm interpositive". It too is a nice presentation with solid grain levels and lovely color reproduction. It's also appropriately bright with good contrast and deep black levels. As far as leftover damage, there are a few occasional thin lines within the frame, but otherwise, clean and stable. For the audio, Brides of Blood features an English 2.0 mono DTS-HD track, which is super narrow and distorted at times, but everything can be heard clearly. It's also much cleaner without any obvious leftover damage. There are also optional subtitles in English SDH.
It also features a decent set of extras. There's an audio commentary with Samuel M. Sherman; Jungle Fury, a vintage 14-minute interview with co-director Eddie Romero; Here Comes the Bride, a 22-minute interview with Samuel M. Sherman; Beverly Hills on Blood Island, a 7-minute interview with actress Beverly Powers; an alternate The Brides of Blood Island title sequence and Jungle Fury title card; the film's teaser and theatrical trailers; and an animated poster and still gallery containing 78 images.
Offering fans a chance to own some of these films without having to shell out a larger amount of money for The Blood Island Collection Blu-ray boxed set, Severin Films' treatment of Brides of Blood is highly commendable. Being able to see the film in high definition at all is miracle unto itself, but in such a fine release with a nice amount of extras, it's too good to be true for long-time fans.
– David Steigman (with Tim Salmons)
Tags
1959
,
1968
,
1971
,
Angelique Pettyjohn
,
Ariston Avelino
,
Beast of Blood
,
Beverly Hills
,
Beverly Miller
,
Blu-ray
,
Blu-ray Disc
,
box set
,
boxed set
,
boxset
,
Brides of Blood
,
Celeste Yarnall
,
Cesar Amigo
,
collection
,
David Steigman
,
Eddie Garcia
,
Eddie Romero
,
Emmanuel I Rojas
,
Eva Darren
,
Filipinas Productions
,
Filipino
,
Filipino horror
,
Flory Carlos
,
Francis Lederer
,
Gerardo de Leon
,
Gervacio Santos
,
Greta Thyssen
,
Hemisphere Pictures
,
HG Wells
,
horror
,
H_G_ Wells
,
Irwin Pizor
,
John Ashley
,
Justo Paulino
,
Kane W Lynn
,
Kent Taylor
,
Mad Doctor of Blood Island
,
Mario Montenegro
,
Oscar Keesee
,
Paul Harber
,
Reuben Canoy
,
review
,
Richard Derr
,
Ronald Remy
,
Severin Films
,
Terror is a Man
,
The Digital Bits
,
The Island of Dr Moreau
,
Tim Salmons
,
Tito Arevalo
,
Valiant Films