And as always, we've got Russell Hammond's weekly update of the Release Dates & Artwork section up for you today featuring all the latest Blu-ray, DVD and Video Game cover artwork and Amazon.com pre-order links. As always, a portion of anything you order from Amazon in the same session after clicking through to the retailer from our links goes to help support our work here at The Bits and we greatly appreciate it!
Now then... in release news today, Warner Home Video has set The Hangover, Part III for Blu-ray Combo and DVD release on 10/8 (SRP $35.99 and $28.98). The Blu-ray will include outtakes, extended scenes and 6 featurettes (Replacing Zach: The Secret Auditions, The Wolfpack's Wildest Stunts, Zach Galifianakis in His Own Words, Pushing the Limits, Action Mash-Up and Inside Focus: The Real Chow).
Warner has also officially announced the James Dean Ultimate Collector's Edition Blu-ray box set for release on 11/5 (SRP $99.98), which will include East of Eden, Rebel Without a Cause and Giant, all newly-restored by Warner MPI in 4K for BD from the original camera negatives (as the negatives were color-faded to the point where making good photochemical prints was no longer possible). "For Rebel Without a Cause, the stereo soundtrack was reconstructed from the magnetic soundtrack stripes of Cinemascope release prints. The film's restoration was done by Warner Bros. in collaboration with The Film Foundation. Restoration funding was provided by Warner Bros., Gucci and The Film Foundation." East of Eden will include audio commentary by Richard Schickel, the 1987 Forever James Dean documentary, the East of Eden: Art in Search of Life featurette, screen tests, 8 wardrobe tests, deleted scenes and footage from the 3/9/1955 NYC premier. Rebel Without a Cause will include audio commentary By Douglas L. Rathgeb, 2 documentaries (James Dean Remembered and Rebel Without a Cause: Defiant Innocents), an new interview with actor Dennis Hopper, screen tests, wardrobe tests, deleted scenes, 3 Behind the Cameras featurettes (Natalie Wood, Jim Backus and James Dean) and theatrical trailers. And Giant will include an introduction by George Stevens Jr., audio commentary by George Stevens Jr., Ivan Moffat and Stephen Farber and the George Stevens: Filmmakers Who Knew Him documentary. "Packaged in a double-wide gift set, the collection also contains a 48-page photo book with behind-the-scene images and rare insight into each film." Each film will also be available individually in Blu-ray Book packaging for SRP $27.98 each. We've posted the official cover artwork for all these here.
Also today, Universal has set High Plains Drifter, Slap Shot and Weird Science for Blu-ray Disc release on 10/15. High Plains Drifter will include the film's trailer. Slap Shot will include audio commentary with the Hanson Brothers, 2 featurettes (The Hanson Brothers' Classic Scenes and Puck Talk with the Hansons) and a trailer. And Weird Science will include the It's Alive!: Resurrecting Weird Science featurette, the pilot episode for the Weird Science TV show and the film's trailer. See the cover art below.
Universal has Dead in Tombstone, starring Danny Trejo and Mickey Rourke, coming on Blu-ray and DVD on 10/22 as well.
It also looks like 20th Century Fox has licensed Volcano (1997) to Anchor Bay for Blu-ray release on 10/1.
Meanwhile, Amazon has revealed new retail-exclusive Blu-ray versions of HBO's Game of Thrones: The Complete Third Season (due 2/18/14 – SRP $128.99 but Amazon has it for $104.99 – comes in "sculptural monument" packaging featuring a tombstone with a dragon) and Warner's The Hobbit: An Unexpected Journey – Extended Edition 3D (due 11/5 – SRP $89.98 but Amazon has it for $69.99 – featuring a Weta statuette featuring Bilbo and Gollum). Here's what they'll look like – click on the art to visit the pre-order pages…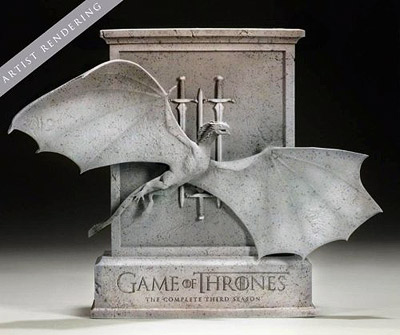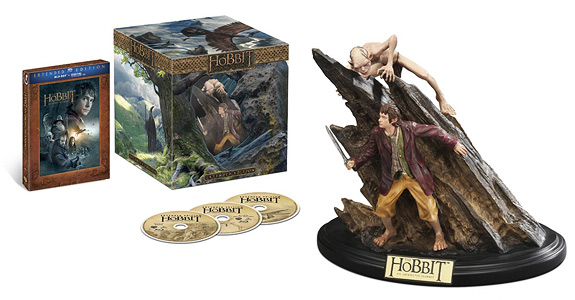 Finally today, here's a look at all three of Universal's new catalog Blu-rays due on 10/15…
Back tomorrow with more reviews. Stay tuned!
- Bill Hunt