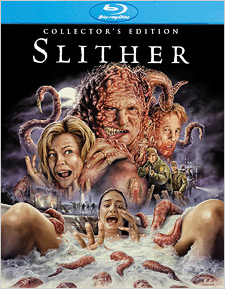 Director
James Gunn
Release Date(s)
2006 (August 1, 2017)
Studio(s)
Universal Pictures (Shout!/Scream Factory)
Film/Program Grade: A-
Video Grade: A-
Audio Grade: A
Extras Grade: A
Review
Long before James Gunn assembled the Guardians of the Galaxy, he cut his teeth on making movies in the Troma universe. Later on in his career, two films became his bridge from ultra low budget raconteur to major Hollywood director: Super, which poked fun at the superhero genre while simultaneously retaining a dramatic character arc, and today's course, Slither. Although financed and released by Universal Pictures in 2006, the film sadly bombed at the box office. However, once it hit home video, it quickly became a cult fan favorite and paved the way for Gunn to broaden his horizons with large scale summer entertainment.
Slither tells of a small town in South Carolina called Wheelsy, wherein a local sheriff finds himself in the middle of an epidemic after a mysterious chunk of meteor lands in the woods and begins infecting the townspeople with its gooey alien contents. Obviously paying nods to films of the 1950s while also acknowledging later classics such as John Carpenter's The Thing, Slither gets major points for its creature effects, most of which are practical with CGI additions. From slimy slug-like creatures to a globular behemoth of a hungry female host, the style and feel of the film is romp-ish in nature, but at the same time, it features characters that we actually like. James Gunn manages to cast his films well, and Slither is no exception, with Nathan Fillion, Elizabeth Banks, Michael Rooker, and Gregg Henry heading up the proceedings. Well-written and endlessly quotable, Slither is a monster movie with a wicked sense of humor, as well as a heartbeat.
Scream Factory's Collector's Edition Blu-ray debut of the film is a most welcome addition to their catalogue and, to my eyes, features one of their best transfers. However, it isn't a new transfer as it appears to come from the same source used for a German Blu-ray release, but it's beautiful nonetheless, with both daytime and nighttime scenes having much to offer. Solid grain levels are present throughout with excellent fine detail and texturing in all respects. Anyone that's ever seen the film before knows how aggressively color-graded it is, meaning that the blacks are often crushed. That said, the color reproduction here is gorgeous with wonderful flesh tones and some surprising shadow detail. Brightness and contrast levels are more than satisfying, and the overall condition of the material is extremely clean. For the audio, two tracks are included: English 5.1 and 2.0 DTS-HD. Both are quite potent, but the 5.1 has much more edge as its obviously more spaced out for a satisfying surround experience. This includes perfect dialogue reproduction, strong sound effects, and ample support for the music and the score. There's also terrific separation and frequent speaker to speaker moments, as well as abundant ambient and LFE activity. It's a top notch presentation that doesn't get much better. Optional subtitles are also included in English if needed.
This release also comes packed with supplemental material. Cooked up for this release is a new audio commentary with director James Gunn, and actors Nathan Fillion and Michael Rooker, as well as two interviews: The Genesis of Slither with James Gunn and The Other MacReady with Gregg Henry. Carried over from Universal's original DVD release is an additional audio commentary with James Gunn and Nathan Fillion; a set of deleted and extended scenes with optional audio commentary by James Gunn; a set of Visual Effects Progressions; a Slithery Set Tour with Actor Nathan Fillion; a set of four featurettes (Who is Bill Pardy?, The Sick Minds and Slimy Days of Slither, Brewing the Blood, The Effects of Slither); Lloyd Kaufman's Video Diary; a gag reel; and the film's theatrical trailer.
While James Gunn has gone on to bigger things in his career, it's nice to know that he will return to work on home video releases of his previous lower budget efforts. Slither is a film that I also find myself returning to again and again. It's a lot of fun, and Scream Factory's treatment of it is top of the line. It's definitely a release that you should pick up if you're a fan.
- Tim Salmons
Tags
2006
,
Blu-ray
,
Blu-ray Disc
,
Collector's Edition
,
Elizabeth Banks
,
Eric Newman
,
Gold Circle Films
,
Gregg Henry
,
Gregory Middleton
,
horror
,
James Gunn
,
Jenna Fischer
,
John Axelrad
,
Lloyd Kaufman
,
Michael Rooker
,
monster
,
monster movie
,
monsters
,
Nathan Fillion
,
Paul Brooks
,
review
,
Scream Factory
,
Shout! Factory
,
Slither
,
Strike Entertainment
,
Tania Saulnier
,
The Digital Bits
,
Thomas Bliss
,
Tim Salmons
,
Tyler Bates
,
Universal Pictures