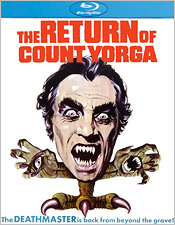 Director
Bob Kelljan
Release Date(s)
1971 (October 13, 2015)
Studio(s)
American International Pictures/Orion/MGM/20th Century Fox (Shout! Factory/Scream Factory)
Film/Program Grade: B
Video Grade: A-
Audio Grade: A-
Extras Grade: C+
Review
The Return of Count Yorga is the sequel to the very successful Count Yorga, Vampire (see our Blu-ray review here), which was released by American International Pictures just one year prior. The film gave the lead Robert Quarry a brief bit of stardom and further contemporized vampire movies in the 1970's. This time around, Count Yorga is intent on taking a vampire bride with the help of his army of vampire women. He and his servant Brudah are inexplicably resurrected after having been destroyed during events in the latter of half of the first film.
For this installment, director Bob Kelljan (who also co-wrote the screenplay) took his influences from not just the movies, but real life, as well. The Return of Count Yorga is influenced by Night of the Living Dead, but also by the Manson murders. If you watch the movie without that knowledge, it doesn't really make much of a difference, but once that little factoid is programmed into your brain, it changes your perception of the home invasion scene at the beginning of the movie and makes it all the more chilling.
The movie was also given a slightly bigger budget and ultimately contains a few more recognizable actors than the first. Both Roger Perry and George Macready return from the first film, although Macready actually has an on-screen part in this film and Perry plays a completely different character. Also included is the lovely Mariette Hartley as the object of Count Yorga's obsession, and small roles inhabited by Rudy De Luca and Craig T. Nelson. The film was also shot by the great Bill Butler, who also shot Jaws and The Conversation and later on.
The story in this film is at times weaker, but somehow stronger than the first at other times. The scares a little more effective with much more creative camera work, but the story and its characters don't seem as interesting, other than Hartley's character. Whereas the first film didn't feature Count Yorga having any sort of romantic wiles for another character, as is the case with a lot of vampire movies, in this one he does, and it feels a little like a step back in that department. The ending, which I won't spoil, is also a bit confusing as to what actually takes place.
These are minor quibbles, however, as The Return of Count Yorga certainly worked for some audiences in 1971 when it was released, but it wasn't as big of a hit as its predecessor. It was a letdown for Quarry as well. While he continued to work steadily at A.I.P. for a few more years, he never again achieved the kind of star status that he had achieved with Count Yorga, Vampire. Talk of another sequel never materialized into anything and the series ended with this film. Today, many consider the sequel superior to the first. While I feel like the films are about on the same level, balancing their pros and cons accordingly, I still think they're effective, as well as kitschy. They're certainly memorable, if nothing else.
Scream Factory managed to pick up the rights for the sequel, while Twilight Time picked up the rights for the original film. As I mentioned in my review of Count Yorga, Vampire, the transfer was sourced from a print that Frank Darabont had had struck several years prior (according to Tim Sullivan, that is). So I'm going to assume that the sequel is also sourced from those same prints. While it exhibits a little less finer quality, it's still quite excellent. It contains an organic-looking grain structure from scene to scene, exhibiting some nice textures and other details. There's also some great color reproduction, as well as natural-looking skin tones. Black levels are not always that deep due to some of the grain, and shadow details are sometimes lost. Contrast and brightness levels are acceptable, and there are no signs of digital enhancement to be found. Compared to Twilight Time's Blu-ray, this sequel certainly exhibits much more apparent film artifacts, which include speckling and tears. However, some of this is only limited to a few scenes and not the overall presentation, which is very solid. For the audio presentation, a single audio track is available, which is an English 2.0 DTS-HD track sourced from the original mono. Like its counterpart, it's a very good track with clean dialogue and a strong score. It's a of a bit flat track, but very appropriate for the overall presentation. There are also subtitles in English for those who might need them.
For the extras, there's a brief amount, but worth checking out nonetheless. There's a very good audio commentary with film historian Steve Haberman and actor Rudy De Luca; the film's original theatrical trailer; a TV spot; a set of radio spots; and a photo gallery.
The Return of Count Yorga isn't thought of much today as an effective horror film, but I think it needs to be given another chance, especially by new generations of horror fans coming along who are keen on checking these titles out. With Scream Factory's release of the film (along with Twilight Time's release of the first), there doesn't seem to be any better time than now to do so.
- Tim Salmons