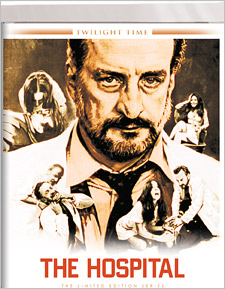 Director
Arthur Hiller
Release Date(s)
1971 (December 19, 2017)
Studio(s)
United Artists/MGM/20th Century Fox (Twilight Time)
Film/Program Grade: B
Video Grade: B+
Audio Grade: B+
Extras Grade: C-
Review
A highly unusual film that wound up being ahead of its time satirically, The Hospital also gave its director, Arthur Hiller, the chance to stretch his filmmaking muscles after the release of Love Story one year before. A dark comedy/murder mystery about a suicidal doctor at a New York hospital who discovers that his staff is being murdered one by one amidst the melodramatic chaos of dealing with patients and a group of rowdy neighborhood protesters, it also earned its screenwriter, Paddy Chayefsky, another solo Academy Award for best screenplay. It was the second time that this occurred, as he had received one for Marty in 1953 and later another for Network in 1976, making him the only screenwriter to ever win three solo Oscars.
Chayefsky also had a lot of control over the film, including its casting process. One could make the argument that it's more his film than the director's, but I prefer to look at it as just another collaborative process. George C. Scott, as if he could be anything less, is magnificent – often given long, dialogue-driven takes to rattle off Chayesfky's material. Diana Rigg is also captivating as a woman in need in more ways than one, looking to Scott for comfort, but also reviving his will to live. Other familiar faces pop up in the cast as well, including Richard Dysart, Roberts Blossom, Frances Sternhagen, Katherine Helmond, Christopher Guest, Dennis Dugan, and Stockard Channing, several of which were fresh on the moviemaking scene at the time.
The comedic elements of the film are often sardonic, never really going for overt laughs but being more situational with colorful characters and frank dialogue. This sarcastic nature is also reflected in the look of the film. Indeed, the hospital itself doesn't appear to be a top-of-the-line facility; it's dark, dank, and looks to be ill-equipped for healing the sick. Even the fingerprints on the glass of the front doors make it appear, intentionally or not, like the kind of place you wouldn't want to have a hangnail treated for, let alone a heart attack. It just adds another layer to a cynical but thoughtful film, however unorthodox it may appear.
The Hospital debuts on Blu-ray courtesy of Twilight Time. The high definition transfer of the film that's been included is quite good. Grain structure is well-resolved, never appearing overly clumpy or uneven. Detail is high, particularly during scenes that take place close up, on city streets, or even in darkened rooms. The deep, inky blacks present in Scott's office towards the middle of the film are perhaps a bit too deep, but are solid nonetheless. The color palette is relatively unremarkable, featuring many shades of green and brown, only occasionally allowing for certain primaries to creep through (which is likely a part of the film's photographic design more than anything). Contrast and brightness is never a problem, and only minor speckling is leftover. The audio, which is an English 2.0 mono DTS-HD track with optional subtitles in English SDH, offers equivalent but satisfying results. The hustle and bustle of the hospital and its many voices and sounds are represented well, even on this narrow soundtrack. Dialogue is reproduced well and it's a fairly clean track with little in the way of hiss, crackle, or dropouts.
The supplements are brief, but Twilight Time's usual offering of bonus material has been included. There's an isolated music and effects track in 2.0 mono DTS-HD; the film's original theatrical trailer in HD; a scroll-through of the current Twilight Time catalogue; and as always, an 8-page insert booklet with an excellent essay on the film by the always insightful Julie Kirgo.
Just as potent and hard-hitting as it was 1971, perhaps even more so, The Hospital is a long overdue addition to the high definition library. Essentially a stage play of sorts, but with compelling performances and well-penned prose, this biting jab at the medical establishment is a welcome bit of fresh air.
- Tim Salmons
Tags
1971
,
20th Century Fox
,
Andrew Duncan
,
Arthur Hiller
,
Barnard Hughes
,
Blu-ray
,
Blu-ray Disc
,
Christopher Guest
,
comedy
,
dark comedy
,
Dennis Dugan
,
Diana Rigg
,
Donald Harron
,
drama
,
Eric Albertson
,
Frances Sternhagen
,
George C Scott
,
Howard Gottfried
,
Julie Kirgo
,
Katherine Helmond
,
MGM
,
Morris Surdin
,
Nancy Marchand
,
Paddy Chayefsky
,
review
,
Richard Dysart
,
Roberts Blossom
,
Stephen Elliott
,
Stockard Channing
,
The Digital Bits
,
The Hospital
,
Tim Salmons
,
Twilight Time
,
United Artists
,
Victor J Kemper