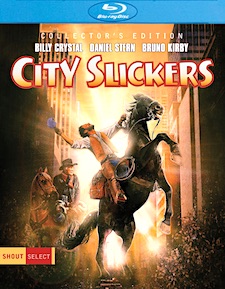 Director
Ron Underwood
Release Date(s)
1991 (October 16, 2018)
Studio(s)
Castle Rock Entertainment/Columbia Pictures (Shout! Factory/Shout Select)
Film/Program Grade: A
Video Grade: A
Audio Grade: A
Extras Grade: B
Review
City Slickers finds Mitch Robbins (Billy Crystal), a married office worker with teenage children, facing a mid-life crisis. For his 39th birthday, his pals Phil (Daniel Stern) and Ed (Bruno Kirby) give him a present – a two-week vacation on a working ranch to participate in a cattle drive. Mitch's wife (Patricia Wettig) encourages him to go, hoping he will "find his smile" again.
At the ranch, they meet their fellow tenderfoot drovers – ice cream tycoons Barry and Ira Shalowitz (Josh Mostel, David Paymer), father-and-son dentists Ben and Steve Jessup (Bill Henderson, Phill Lewis), and Bonnie Rayburn (Helen Slater), the sole woman along.
Gruff, leathery trail boss Curly (Jack Palance) is not especially fond of city folk but knows how to whip his urban crew into shape to drive the herd from New Mexico to Colorado. Mishaps ensue involving horses, cattle, roping, belligerent cowboys, and a noisy coffee maker, but being out in the wide open spaces gives the friends a chance to talk about their personal high and low points as they ponder why life hasn't turned out as they'd hoped.
In addition to being very funny, City Slickers is heartfelt in its depiction of three grown men trying to find themselves. Phil has such a terrible marriage that he has an affair with a young clerk in the grocery store he manages. Ed is a womanizer flitting from one pretty girlfriend to the next and creating excitement by organizing highly risky vacations with his buddies. An opening scene that shows the three of them running with the bulls in Pamplona sets the tone for the fun to follow.
The cattle drive starts out well, with all the participants cooperating under the wisdom and iron hand of Curly, but circumstances cause their number to dwindle along the way until only Mitch, Ed, and Phil are left to bring in the herd. This part of the film offers some exciting scenes as the guys lead the herd down a steep embankment and across a river in a raging downpour.
Crystal shines as Mitch, keeping the jokes flowing and preventing the character from coming across as self-pitying or morose. One of the best scenes occurs when Mitch and Curly are out on the range alone to round up stray cows. At first, there's tension, but eventually a bond forms between these two men of diverse backgrounds. A conversation on horseback allows each man to see the other as a person, not a stereotype. A later scene, in which they help a suffering cow deliver a calf, is both graphic and touching.
Palance, who won the Best Supporting Oscar for his role as Curly, is a hoot, playing a kind of spoof of characters he often played in other films. He electrifies the first part of the film, serving as both stone-faced straight man to Crystal and iron-willed disciplinarian to the easily intimidated city slickers.
Director Ron Underwood fashioned a first-class fish-out-of-water comedy with a strong story. Made in 1991, City Slickers holds up well today despite a scene in which Mitch tries to explain to Phil how a VCR – yes VCR – works. With no CGI, the logistics of making a film involving a large herd of livestock and actors who had to look as though they had become reasonably proficient on horseback are astounding. Stuntmen worked on the film but many dangerous scenes did use the actual actors. Performances are excellent, the supporting cast is used effectively, dialogue is often emotional and deep, and the male bonding theme is handled with both humor and heart.
Visual quality on this new 4K transfer is sharp and resembles what you'd see in a theater. Color palette tends toward rich browns, yellows, and muted oranges for scenes on the trail. Urban scenes are cooler in tone, tending toward blues. The Pamplona scene is dominated by white and red. Details are distinct, such as the hides of the cows, rain, rock patterns, and the lines in Curly's face. There are no distinguishable flaws in the print.
Audio is 5.1 DTS-HD Master Audio and provides good balance among dialogue, sound effects. and Marc Shaiman's score. The sounds of the cows' hooves are properly modulated so as not to overwhelm dialogue. Gun shots are loud and may have been "sweetened" for dramatic effect.
Bonus materials on the Blu-ray release include audio commentary, two deleted scenes, four featurettes, and theatrical trailer.
Audio Commentary – Director Ron Underwood and stars Billy Crystal and Daniel Stern discuss various stages of filming, offering numerous amusing anecdotes. Commentary tracks can be dull and repetitive, but Crystal's enthusiasm and quick wit along with the comfortable relationship with Underwood and Stern make this commentary both informative and entertaining.
Back in the Saddle: City Slickers Revisited – Crystal describes the genesis of the movie. He was watching a vacation TV show that mentioned cattle drives. He made some notes and pitched the idea to writers Lowell Ganz and Babaloo Mandel. Crystal contributed ideas and worked with the writers to develop the script. When Ron Underwood read the script, he immediately signed on as director.
Bringing in the Script: Writing City Slickers – Crystal and screenwriters Lowell Ganz and Babaloo Mandel talk about "making a clean and simple story work" and discuss their inspiration for various scenes.
A Star Is Born: An Ode to Norman – Norman is the calf that plays a significant role in the film. Crystal describes how the back end of a cow was created by the prop department and a real newborn calf covered in fake blood and gelatinous material was pulled through to simulate an actual birth.
The Real City Slickers – This brief look at dream fulfillment vacations includes various people speaking about what attracted them to spending their vacations on a working ranch.
Deleted Scenes – The first deleted scene shows the three friends freeing the herd once they've driven it in. It was cut because the director felt that it was morally problematic. The second cut scene takes place in the airport after Mitch returns home. He tells his wife that he has a new job writing ads for the ice cream brothers.
- Dennis Seuling