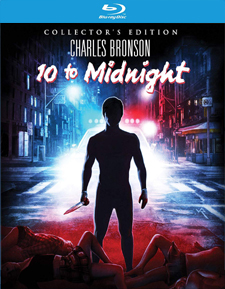 Director
J. Lee Thompson
Release Date(s)
1983 (January 22, 2019)
Studio(s)
Cannon Releasing/MGM (Shout!/Scream Factory)
Film/Program Grade: B+
Video Grade: A
Audio Grade: B+
Extras Grade: B
Review
While many critics considered Charles Bronson's run of action thrillers for Cannon Films to be bottom of the barrel, they arguably kept droves of audiences entertained for well over a decade, particularly the Death Wish films. J. Lee Thompson, who directed classics such as Cape Fear and The Guns of Navarone early in his career, worked with Bronson when he directed St. Ives, The White Buffalo, and Caboblanco, but their relationship later continued at Cannon with the great, unsung action slasher 10 to Midnight.
Bronson stars as detective Leo Kessler, a seasoned, hard-nosed cop who is breaking in his partner Paul (Andrew Stevens). They begin by investigating a series of murders carried out by a man named Warren Stacy (Gene Davis), a clever criminal who finds ways of killing his victims by removing his clothes as to not get any evidence on them, but also to have reliable alibis to avoid getting caught. Kessler becomes convinced that Stacy is the one behind the killings, but is unable to prove it, and he must go against the law in order to capture him before his estranged daughter Laurie (Lisa Eilbacher) becomes Stacy's next victim.
The marketing for 10 to Midnight would lead one to believe that it's nothing more than a standard Bronson actioner, which is always welcome, but it's highly misleading. What it turns out to be is more of slasher with a police procedural bent. It's suspenseful in all of the right ways, but it's also kind of bonkers. Not many films ever tried the approach of a having a nude killer running amok in the streets of a major city. In fact, the only other instance that I can think of where this idea was put to use was in an episode of Miami Vice.
Even though the film's content wasn't in his particular wheelhouse, Bronson delivers the goods, going head to head with Gene Davis, who also delivers a suitably sinister and maniacal performance. There are thrills and over the top moments at every turn, and the final showdown between the two is pretty amazing. I personally didn't find any of it to be particularly sleazy, although it's often described that way. I see it as more of gritty horror film, which goes hand in hand with J. Lee Thompson's Happy Birthday to Me, which was released two years prior.
Scream Factory's Collector's Edition Blu-ray release comes armed with a transfer taken from a new 4K scan of the original camera negative. Twilight Time's previous Blu-ray release featured a strong, but dated HD master that was also used for the film's original DVD release. This new transfer bests it easily. Grain is much more pronounced and even from scene to scene, revealing much more detail, particularly in the shadows. Blacks are also improved, especially in darker environments and nighttime scenes. Everything is more crisp and defined, but also cleaner, brighter, and more stable. There's also more information along the edges of the frame. The color palette boasts some bold greens and reds, as well as more natural skin tones.
The audio is presented in English 2.0 mono DTS-HD with optional subtitles in English SDH. It's not really any different than previous releases. Slightly narrow in quality, dialogue is always well-prioritized while score and sound effects are given plenty of heft without resulting in distortion. There are no dropouts or instances of crackle, but there is a mild bit of hiss, which is fairly trifling.
Scream Factory's release also comes with some nice extras, which are a mix of new and older material. First up is a new audio commentary with writer/author Paul Talbot (author of Bronson's Loose! and Bronson's Loose Again!), which is quite informative; an older audio commentary with producer Pancho Kohner, casting director John Crowther, and film historian David Del Valle; Producing Bronson, a new 13-minute interview with producer Lance Hool, who talks about his relationship with both Thompson and Bronson; Remembering Bronson, a new 6-minute interview with actor Robert F. Lyons about working with Bronson; Knife and Death, a new 7-minute interview with actress Jeana Tomasina Keough about how she was cast in the film; Charlie's Partner, a new 11-minute interview with actor Andrew Stevens about his work in the film; the original theatrical trailer; 3 radio spots; and an animated still gallery with 94 images of on-set photographs, posters, and lobby cards. All that's missing from the Twilight Time Blu-ray release is an isolated score and effects audio track and Julie Kirgo's essay from the accompanying 8-page insert booklet.
Most fans of 10 to Midnight tend to be those who watched it on home video or cable over the years, mostly in edited-for-TV forms. It's a strong piece of work that's actually much better than its reputation might lead one to believe. Scream Factory's release of it is a vast improvement over previous versions, offering a nice mix of extras and a rock solid transfer. Whether you're a Charles Bronson fan or a slasher fan, this one comes highly recommended!
– Tim Salmons
Tags
10 to Midnight
,
1983
,
action
,
Adam Greenberg
,
Andrew Stevens
,
Bert Williams
,
Blu-ray
,
Blu-ray Disc
,
Cannon Films
,
Cannon Releasing
,
Charles Bronson
,
City Films
,
Collector's Edition
,
Cosie Costa
,
Gene Davis
,
Geoffrey Lewis
,
horror
,
J Lee Thompson
,
Jeana Tomasina
,
June Gilbert
,
Kelly Preston
,
Lance Hool
,
Larry Caruso
,
Lisa Eilbacher
,
MGM
,
Ola Ray
,
Pancho Kohner
,
Peter Lee Thompson
,
review
,
Robert F Lyons
,
Robert O Ragland
,
Sam Chew Jr
,
Scream Factory
,
Shout Factory
,
Shout! Factory
,
slasher
,
The Cannon Group
,
The Cannon Group Inc
,
The Digital Bits
,
thriller
,
Tim Salmons
,
Wilford Brimley
,
William Roberts