In announcement news today, Marvel and Disney have finally announced the Blu-ray release of Marvel's Daredevil: The Complete First Season on Blu-ray on 11/10 (SRP $39.99). All 13 episodes will be included, though there's no word of any extras.
Meanwhile, Disney has also announced a Disney's The Jungle Book 3D: Collector's Edition for release on 11/15. The 3-disc set includes the Blu-ray 3D version of the film plus the previously-released regular Blu-ray, and DVD. The set will also include 5 new featurettes (The Bare Necessities: From the Jungle to the Bayou, The Return of a Legend, The Jungle Effect, Developing Kaa, and The Jungle Book Around the World) in addition to the previously-released features. Clearly, this is a new pattern for Disney releases, because it's the same thing they did with Star Wars: The Force Awakens – release a regular Blu-ray and then a Collector's Edition with Blu-ray 3D later.
Lionsgate has set The Wild Life for Blu-ray Combo, DVD, and On Demand release on 11/19, with the Digital HD release due on 11/22.
Scream Factory has just set the Poltergeist II: The Other Side – Collector's Edition and the Poltergeist III: Collector's Edition for release on Blu-ray on 1/24/17. Each will include brand new extras (TBA).
CBS has finally set Star Trek: The Original Series – The Roddenberry Vault for Blu-ray release on 12/13 (SRP $76.99). The 2-disc set will include 12 Original Series episodes, along with "behind-the-scenes footage from the making of the series as well as alternate takes, deleted scenes, omitted dialogue, outtakes, and original visual FX elements."
Falco Ink has set Doctor Thorne for release on DVD on 10/18 and Digital HD on 10/17. This is a new British film from the creator of Downton Abbey.
On the catalog front, Warner has announced a new Space Jam: 20th Anniversary Edition for release on Blu-ray Combo on 11/15 (SRP $19.98). It will come in new Steelbook packaging. Extras will include audio commentary with director Joe Pytka, Bugs Bunny (voiced by Billy West), and Daffy Duck (voiced by Dee Bradley Baker), the Jammin with Bugs Bunny and Michael Jordan featurette, and a pair of music videos.
Here's something interesting: Paramount has just announced a new It's a Wonderful Life: 70th Anniversary Platinum Edition for release on 10/11. We don't have the SRP yet, and it doesn't appear that the set will include any new disc-based extras. This is just a repackage with swag. You get the most recent Blu-ray version (with the original B&W and colorized version of the film), a DVD, and a set of "limited edition art cards." Here's what it looks like...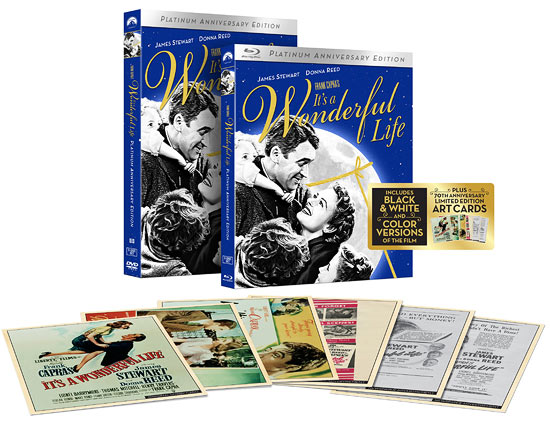 For you U.K. Blu-ray fans, Eureka is releasing Roxanne (1987) on Blu-ray and DVD combo (in the U.K. only) on 11/21.
And Arrow Video has officially set the Hellraiser: The Scarlet Box Limited Edition Trilogy Blu-ray box set for release on 12/13 (SRP $124.95). The 4-disc set includes Hellraiser, Hellbound: Hellraiser II, and Hellraiser III: Hell on Earth, as well as an exclusive disc of bonus features.
Finally, we've got a TON of news for 4K Ultra HD Blu-ray fans today – lots of new announcements and revelations.
First... we now know that Warner Bros. Home Entertainment plans to release War Dogs on 4K UHD BD on 11/22, but we also know (because they've been listed for pre-order on Amazon) that they're also bringing Goodfellas, The Unforgiven, Sully, I Am Legend, The Town, and Argo to the format before the end of the year. Click on the title links provided to pre-order.
Also, as we reported on Thursday, Universal has officially set Jason Bourne for release on 4K Ultra HD Blu-ray on 12/6. But they've also set The Bourne Identity, The Bourne Supremacy, The Bourne Ultimatum, and The Bourne Legacy for release on 4K UHD BD on 12/6 as well. They have also set The Girl on the Train for 4K UHD pre-order (TBA). Again, click on the title links to pre-order.
Meanwhile, 20th Century Fox has listed Miss Peregrine's Home for Peculiar Children, Morgan, and The Birth of a Nation for pre-order on 4K UHD BD format (street date TBA).
Lionsgate has set Mechanic Resurrection for 4K UHD BD release on 11/22.
And Sony has listed The Magnificent Seven (2016) for pre-order on the 4K UHD BD format as well (street date TBA).
Here's a look at the Blu-ray cover artwork for some of the titles mentioned above, as well as what cover art we have available for those newly revealed 4K titles too...
That's all for now. Stay tuned!
- Bill Hunt (@BillHuntBits)