Speaking of which, Shout! and Scream announced a bunch of new titles at the Con this past week for Blu-ray and DVD release in the months ahead, including The Horror Show and John Carpenter's Assault on Precinct 13: Collector's Edition (both November), Eve of Destruction (TBD), Saturn 3 and a Darkman: Collector's Edition (December), a Scream Factory TV Terrors Double Feature: The Initiation of Sarah/Are You in the House Alone? (DVD only – December), a Cat People: Collector's Edition and Night Breed: The Cabal Cut (2014). Not bad!
Also on our Bits panel, producers J.M. Kenny and Scott Devine announced that they're working on a new feature-length documentary for DC and Warner Home Video called Necessary Evil: Super-Villains of DC Comics. It will arrive on Blu-ray Disc on 10/25 (SRP $19.98) and will feature interviews with directors Richard Donner, Guillermo del Toro, Zack Snyder, DC's Geoff Johns and more. It will be narrated by Christopher Lee, who has played more than his share of villains to be sure. Here's the official trailer…
Hey, remember the other day when we confirmed that The Right Stuff: 30th Anniversary Edition was finally coming to Blu-ray Disc from Warner Home Video this year? Well, it's now official – look for it on Blu-ray on 11/5 (SRP $27.97) in 40-page Blu-ray Book packaging, featuring rare photos, production notes and other material. The film is fully remastered and will feature a new Dolby TrueHD audio mix "with advanced 96K upsampling". More than three hours of vintage extras will include the 1998 PBS documentary John Glenn: American Hero, scene-specific commentary with the director and cast, 3 featurettes (Realizing the Right Stuff, T-20 Years and Counting and The Real Men with The Right Stuff) and more. Here's a look at that…
Also newly announced by Warner for Blu-ray release on 11/5 are A Christmas Story: 30th Anniversary Edition, a Scrooged: 25th Anniversary Edition and an Elf: 10th Anniversary Edition. More on those soon.
It's worth noting that Warner caused a bit of a stir on the Comic-Con floor this year by promoting Batman: The Classic Series on giveaway bags. (Editor's Note: Apparently there has also been fake Batman: The Classic Series Blu-ray packaging circulating on the Internet this week, which added to the mayhem – our friends over at TVShowsonDVD.com investigated that.) Here's the deal on all this: We spoke with studio reps on the floor – and also a couple sources we trust implicitly that we can't name – and learned that Fox, Warner and DC have apparently worked out their own mutual issues with regard to releasing the series on disc. However, the current problem is that making a deal with the creators' estates is proving very difficult. As you might guess, they all want a lot of money. So the question is, how much do you have to pay them, and can you then make enough from Blu-ray and DVD sales for the deal to make financial sense? In the meantime, what the bags are promoting is that Warner and DC have begun licensing the likenesses of the series' characters for products (all except for Catwoman, because of longstanding difficulties negotiating rights with actress Julie Newmar). So the situation remains quite complicated. However, work on this front continues and the simple fact that Warner and DC are even willing to start marketing products based on the 1960s series – now that the Nolan trilogy has come to an end – is at least reason for hope. Anyway, here's a shot of the Comic-Con giveaway bag that started all the fuss…
Meanwhile, 20th Century Fox announced at the Con that they're going to release Predator 3D on Blu-ray 3D this December. There will be a regular Blu-ray 3D and a Limited Edition version packaged in a replica of the Predator's head complete with helmet. Only 500 of LEs will be available and if you pre-ordered them at Comic-Con you got a cool exclusive – a custom scanned and 3D-printed statue of the Predator holding up your severed head and spine. Here's pix of the regular and LE packaging (again, keep in mind the figure shown isn't included unless you ordered it at the Con)…
In other news, Paramount finally got around to revealing the official, final cover artwork for Star Trek Into Darkness, due on Blu-ray 3D, Blu-ray and DVD on 9/10. Here's a look at that…
Also, during another show panel at the Con this weekend, the cast and crew of Showtime's Dexter revealed that the eighth and final season of the series will be available on DVD and Blu-ray on 11/5, along with a Dexter: The Complete Series box set on both formats (expect it to be a replica of Dexter's box of blood slides). Here's a look at the BD art for Dexter: The Final Season, as well as Scream Factory's Assault on Precinct 13: Collector's Edition and Warner/New Line's Elf: 10th Anniversary Edition, both mentioned above…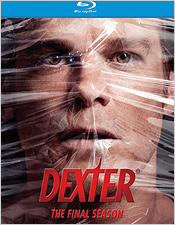 File this next bit in the Rumor Mill 'follow-up' category, but numerous sources I spoke with while down at the con (including studio, post facility and retail) confirmed unofficially our Rumor Mill posts from a few months ago (see here and here) that Fox is working to bring The X-Files TV series to Blu-ray as part of the celebration for the show's 20th Anniversary this year. No announcements were made at the Con (despite a 20th Anniversary panel on Thursday featuring creator Chris Carter and stars David Duchovny and Gillian Anderson), but we believe at least the first season could be announced (in the coming weeks) for release by the end of the year. Remastering work has been underway at HTV/Illuminate in Hollywood – visual effects and some stock footage shots (of the Hoover building, etc) have required upconversion but otherwise original negative is being scanned in full HD. Speaking of which, work on Twin Peaks: The Complete Series on Blu-ray is also well under way at CBS, with a release expected in time for the end of the year or early next. Multiple sources tell us that a deal has been made to allow the inclusion of David Lynch's Fire Walk with Me film in the package, so fan will at long last be treated to a truly complete set.
Last but not least, a particularly interesting topic of conversation among our industry friends at Comic-Con this year was the likelihood that the original unaltered Star Wars trilogy could finally be released on disc in high quality now that Disney is in the driver's seat on the franchise. The expert consensus was that it's quite possible. In fact, it almost seem unthinkable that it wouldn't happen. Disney has the best marketing machine in the business, and what better way to instantly spark fan enthusiasm and good feelings for the studio's planned Episodes 7, 8 and 9 feature films than by giving fans what they've always wanted too: the unaltered theatrical cuts of Episodes 4, 5 and 6 on Blu-ray? Again, this is just somewhat informed speculation, so consider it Rumor Mill worthy. But every time jaded fans think they're finally done with this franchise, the Empire finds new ways to pull them back in. The Saga continues, folks.
[Editor's Note: Let me make it clear, because some Star Wars fans sites (including The Force.net) have apparently misread and then blown these comments out of all proportion today. I'm not saying that we've heard this is happening in any way, or that we have special knowledge that Disney is actually considering this. This is me reporting on a conversation repeated several times with industry insiders at this year's Comic-Con speculating as to whether or not it's possible or likely. Given Disney's skill/zeal at exploiting their properties and the amount of money they've paid for the Star Wars franchise, the concensus among those involved in these conversations was that it seemed unlikely they wouldn't exploit so obvious a money-making opportunity. That is all. So stop asking me what the cover art looks like, who's doing the transfer and what the street date is. ;) ]
All right, back tomorrow (Tuesday) with some pix from the Con and more release news. Stay tuned!
- Bill Hunt