Brooklyn-born Wallach, who died on Tuesday at the age of 98, was not only a "character actor," but an "actor's actor," able to shed his own skin and believably disappear into each of his characters regardless of medium. On the silver screen, Wallach was best-known as Tuco, the "Ugly" of The Good, the Bad and the Ugly, or Calvera, the bandit and chief nemesis of The Magnificent Seven. On the small screen, he was a particularly memorable Mr. Freeze on the campy Batman television show, following George Sanders and Otto Preminger as the villain. In his most natural habitat, the Tony Award-winning, Lee Strasberg-trained "Method" actor made the New York stage his home from 1945 straight through to the new millennium, bringing life to the words of Tennessee Williams, Arthur Miller, Clifford Odets, Eugene Ionesco and George Bernard Shaw.
To me, Eli Wallach was Sid Garden, gruff but loving patriarch of a colorful extended family in Anne Meara's comedy Down the Garden Paths. Between 1999 and 2001 on stages in New Jersey, Connecticut, Florida and ultimately New York, Eli and Anne Jackson (his wife since 1948 and an equally-decorated actress on stage and screen) led a company of extraordinary talents that also included their daughter Roberta, Meara's daughter Amy Stiller, and through the magic of video, Amy's father and Anne's husband Jerry Stiller. Under the inspired and graceful direction of David Saint, I served as the Assistant Director for each staging, receiving a daily master class – as every member of the company did – from this quintessential actor and wickedly funny storyteller.
For Eli, every small gesture was more valuable than one thousand words – and that talent proved valuable onstage and off. In front of the camera, that gift allowed Eli to elevate any project to which he'd committed himself with just the right degree of naturalism. He specialized in intense characters with more than a little under the surface. Witness his turn as the mysterious shipwreck survivor Adam Coffin in the underwater epic The Deep (1977) or as Stratos in Walt Disney's family adventure The Moon-Spinners (1964). The same skills were put to great use behind-the-scenes. Eli, who turned a youthful 85 during the course of our New York production, never once asked to be excused from a rehearsal even when the hours became long. But whenever he nonchalantly placed his hat upon his head, without saying a word, there was no question – the day's work had been completed!
A twinkle could always be found in Eli's eyes as he observed his wife and daughter onstage, or when he told a ribald story. An inveterate raconteur, any extended conversation with Eli might summon up tales of Marlon Brando, Frank Sinatra, Sergio Leone, or Marilyn Monroe. Luckily, many of those memories made their way to the printed page with the publication of his memoir The Good, the Bad, and Me – a perfect title summing up the good humor that was such an everyday part of his life. His raspy laugh was infectious. Though frequently cast as an angst-ridden tough guy, Wallach's sure comic timing enlivened roles not just in Down the Garden Paths, but opposite Steve McQueen in The Hunter (1980) or Anne Jackson and Alan Arkin in Murray Schisgal's Broadway play Luv (1964).
Rehearsals with Eli kept you on your toes. He once pinned me to his dressing room door re-enacting a dramatic scene with Mostel from their 1961 Broadway success Rhinoceros. The brief moment was completely exhilarating. Eli allowed me to step into his shoes as he recreated the moment of larger-than-life loose cannon Mostel brilliantly shocking him onstage. He was a fearless actor and a real mensch – a wise, compassionate, down-to-earth friend.
Though Eli was a morally upstanding citizen, he was guilty of theft on a frequent basis - as an inveterate scene-stealer! In his final, partially improvised film role, Eli threatened to walk away with Oliver Stone's Wall Street: Money Never Sleeps (2010). His old friend Clint Eastwood gave him a juicy scene-stealing cameo in 2003's Mystic River. It's no surprise that he kept working long after many of his colleagues had retired, because he never lost his sense of wonder at his chosen profession. One treasured card from Eli expressed his excitement over getting to work with Kate Winslet in the 2006 rom-com The Holiday. No matter that he had already shared the screen with Gable, McQueen, Monroe, Malden, and a host of legends - he was genuinely excited for the opportunity to work with the young starlet. Some afternoons during the run of Down the Garden Paths, I would discover Eli autographing photos of Tuco or Mr. Freeze; he still answered his own fan mail. When our show closed in New York, we remained in touch each holiday season, and a special treat would be running into Eli and Anne in various theatres on- and off-Broadway. He was, inevitably, a class act.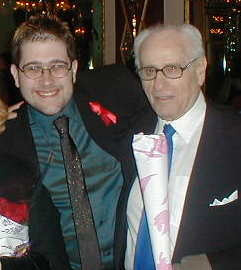 How will you remember Eli Wallach? Savor his singular performances as Tuco, Calvera, sleazy cotton gin owner Silva in Baby Doll (his favorite screen role), brooding Guido in The Misfits, or Don Altobello in The Godfather Part III – although after watching the latter, you might never eat another cannoli! This is the varied body of work that led Hollywood to finally bestow an honorary Academy Award upon the nearly-95-year old actor in 2010, and it's a major part of his legacy.
Arguably the greatest asset of live theatre is its immediacy – and a great performance will always live in the memory of those who witnessed it. A great performance on film, however, can be accessed anytime, anywhere, with the push of a button. These indelible portrayals will doubtless continue to inspire and influence generations to come.
Eli Wallach – devoted husband, father, grandfather, great-grandfather, and friend - collected watches. For the nearly two years in which we worked together, we had a daily ritual. Eli would always greet me, conspiratorially place his hand over his watch, and slowly, dramatically reveal the timepiece. Many of the watches dated back decades. With the revelation of the watch came a story. Naturally, I was enrapt. Yet though he was never without a watch on his wrist, Eli Wallach was – as a human being and as an artist – simply timeless.
- Joe Marchese