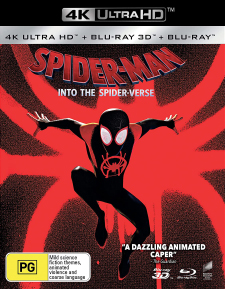 Director
Bob Persichetti, Peter Ramsey, and Rodney Rothman
Release Date(s)
2018 (June 28, 2021)
Studio(s)
Columbia Pictures/Marvel/Universal/Sony (Random Space Media)
Film/Program Grade: A+
Video Grade: A+
Audio Grade: A
Extras Grade: A-
Review
[Editor's Note: This a REGION-FREE release. The bulk of this review is by Bill Hunt, with additional coverage of the Blu-ray 3D disc by Tim Salmons.]
Miles Morales (Shameik Moore) is just your average New York City teenager trying to find his way in the world, when he gets bitten by a radioactive spider and develops unique superpowers. Well, maybe not so unique. You see, in Miles' world, there already is a Spider-Man (Chris Pine), who promises to show our fledgling hero the ropes. But when a supercollider belonging to the notorious Kingpin (Liev Schreiber) goes haywire beneath Manhattan, that becomes impossible… and the impossible becomes reality. Multiple dimensions begin to converge, each with a "Spider" hero of its own. All of them have suddenly crossed over into Miles' world and they'll have to work together to save their "Spider-Verse" from annihilation.
I should admit this right up front: Spider-Man: Into the Spider-Verse may very well be my all-time favorite superhero film. That's saying a lot, I know, but never has a film so perfectly captured this genre's comic-book origins and visual texture before. The story—featuring characters that have nearly all appeared in the pages of different Spider-Man comic series—feels remarkably fresh, entertaining, and grounded. There's great action here to be sure, but also a ton of humor, and genuine heart. In addition to the names I've already mentioned, the voice cast features Jake Johnson, Hailee Steinfeld, Mahershala Ali, Brian Tyree Henry, Lily Tomlin, Luna Lauren Velez, John Mulaney, Kimiko Glenn, Katheryn Hahn, Zoe Kravitz, and Nicolas Cage, all of whom make fine contributions to the story. But what really impresses here is that this film features the most ground-breaking animation to grace the big screen in years, with perhaps the most unique visual style since the Wachowski's Speed Racer in 2008.
Part of this is due to the filmmakers applying an immediately recognizable halftone-dot and offset printing effect to the footage. They also blend 3D and 2D animation in both the characters and backgrounds—and some of the 2D is hand-drawn, with actual line work. The filmmakers break the widescreen frame with traditional comic page panels, reveal the occasional bit of dialogue or thought via word balloons, and pepper action scenes with sound effects text. Perhaps the most important technique they've applied, however, is apparent in the way they've rendered the image. Rather than rendering a full 30 frames-per-second of smooth animation, they're actually rendering 15 frames and holding some as double or even triple frames, all while avoiding motion smoothing. It's a little like watching really well done stop-motion animation, which lends the footage an interesting dash of physicality. It's genuinely remarkable.
Sony Animation rendered Into the Spider-Verse in 2K, so it was upsampled for its release on 4K Ultra HD. But that's okay; every bit of detail in the 2.39:1-framed image is visible here. And let me tell you, the High Dynamic Range grade (HDR10 only) is magnificent. Colors exhibit a more vivid luster and much greater nuance, the shadows are deepened, and the brightest areas have real pop. This is a visual feast—a definite eye candy title for the UHD format.
For its Blu-ray 3D counterpart, the post-converted 3D process delivers a top notch presentation of a film that lends itself to the format beautifully. The dynamic color palette mixed with the 3D is never visually exhausting or overwrought, and the cross-hatched, page-like textures of the animation aid in providing depth in the image, from foreground objects and activities to unfocused areas in deep backdrops. Snowflakes during Miles' graveside visit litter the frame, popping all around. Word balloons, panels, and transitions really stand out as well. Not all moments in the film are thoroughly composed for this kind of depth, and there a few moments when aspects of the image are a tad out of register, but for the most part, it's a slick and satisfying three dimensional image.
The 4K disc also provides a lively and dynamic English Dolby Atmos sound mix (TrueHD 7.1 compatible) that seldom disappoints. There's a little less panning and movement than you might expect, but the staging is precise, with terrific immersion and tons of robust and subtle directional cues. Bass is firm with genuine heft, clarity is exceptional, and the score by Daniel Pemberton (mixed with pop/hip hop tracks by Post Malone, Nicki Minaj, and others) is playful with fine fidelity. Additional audio options include English 2.0 Descriptive Audio and English, Danish, Finnish, Norwegian, Russian, and Swedish 5.1 Dolby Digital. Optional subtitles include English, English SDH, Danish, Estonian, Finnish, Latvian, Lithuanian, Norwegian, Russian, Swedish, and Ukrainian.
This REGION-FREE 3-disc collection from Universal/Sony Australia offers the film in not just 4K Ultra HD and Blu-ray 3D, but standard Blu-ray as well in 1080. The audio for the Blu-ray 3D is offered in English, Portuguese, and Spanish 5.1 DTS-HD Master Audio; Catalan, Hindi, Tamil, and Telugu 5.1 Dolby Digital; and English 2.0 Descriptive Audio. Subtitles options include English, English SDH, Portuguese, and Spanish. The Blu-ray disc features audio in English 5.1 DTS-HD Master Audio; Danish, Finnish, Norwegian, and Swedish 5.1 Dolby Digital; and English 2.0 Descriptive Audio. Subtitles include English, English SDH, Danish, Finnish, Norwegian, Polish, and Swedish.
Each disc features the following extras (all in HD):
DISC ONE: UHD
Audio Commentary with Phil Lord, Christopher Miller, Bob Persichetti, Peter Ramsey, and Rodney Rothman
Spider-Ham: Caught in a Ham Animated Short (4:01)
(Note that the Spider-Ham short is upsampled to 4K but not graded for HDR, so you'll want to turn that off when you watch it here.)
DISC TWO: BD3D
None.
DISC THREE: BD
Audio Commentary with Phil Lord, Christopher Miller, Bob Persichetti, Peter Ramsey, and Rodney Rothman
Alternate Universe Mode Viewing Option (143:31)
Spider-Ham: Caught in a Ham Animated Short (4:01)
We Are Spider-Man (7:51)
Spider-Verse: A New Dimension (5:09)
The Ultimate Comics Cast (15:02)
Designing Cinematic Comic Book Characters: Heroes & Hams (7:45)
Designing Cinematic Comic Book Characters: Scoundrels & Scorpions (5:11)
A Tribute to Stan Lee and Steve Ditko (8:34)
The Spider-Verse Super Fan Easter Egg Challenge (5:02)
Post Malone & Swae Lee's Sunflower Lyric Video (2:48)
Nicki Minaj, Anuela AA & Bantu's Familia Lyric Video (3:00)
Hotel Transylvania 3 Trailer (1:17)
It's the same set of bonus materials that are already available on the US release, but opts out trailers for Spider-Man: Far From Home and MIB: International for a single trailer for Hotel Transylvania 3 on the Blu-ray only.
The Spider-Ham short is cute in a throwback way and serves as a kind of setup to the film itself. The full-length commentary is good, with interesting stories and bits of trivia on the making of the film, but the Alternate Universe Mode is the real highlight of these extras. As you watch the film with it enabled, you get a look at deleted and alternate scenes, alternate dialogue and more, all of it presented back in the context of the film. It amounts to about 27 minutes of additional content in all, added back via seamless branching. Most of it is unfinished (storyboards and the like), but it's pretty cool to see nonetheless.
The rest of the video-based extras feel a little bit glossy, but still manage to give you a nice look behind-the-scenes at the film's development and production, how the actors were chosen, and what they each brought to their roles, etc. A highlight is definitely the tribute to Stan Lee and Steve Ditko, and I particularly liked the explanation of how the animators achieved the film's unique look. The featurette run times may not seem like much, but there's a lot more information and insight packed into each one than you expect.
Co-written by Phil Lord and produced by Lord and Chris Miller (of Lego Movie and Solo fame) among others, Spider-Man: Into the Spider-Verse is surprising and a real delight. As most of you know already, it won the Oscar for Best Animated film and damn well deserved it. Sony's 4K Ultra HD release state-side was lacking the inclusion of a Blu-ray 3D option, but this release from Random Space Media rectifies that beautifully, and affordably. This is definitely the package to own if you have a 3D setup at home.
- Bill Hunt and Tim Salmons
(You can follow Bill on social media at these links: Twitter and Facebook)
(You can follow Tim on social media at these links: Twitter and Facebook. And be sure to subscribe to his YouTube channel here.)
Tags
2018
,
2160p
,
2K DI upsample
,
2K upsample
,
3-D
,
3D
,
4K
,
4K UHD
,
4K Ultra HD
,
Academy Award
,
action
,
Amy Pascal
,
animated
,
animated film
,
Arad Productions
,
Avi Arad
,
Best Animated Film
,
Bill Hunt
,
Blu-ray
,
Blu-ray 3-D
,
Blu-ray 3D
,
Blu-ray Disc
,
Bob Persichetti
,
Brian Tyree Henry
,
Chris Miller
,
Chris Pine
,
Christina Steinberg
,
Christopher Miller
,
Cliff Robertson
,
Columbia Pictures
,
comic books
,
computer-animated
,
Daniel Pemberton
,
Doc Oc
,
Doctor Olivia Octavius
,
Dolby Atmos
,
Donald Glover
,
DTS-HD Master Audio
,
Green Goblin
,
Greta Lee
,
Gwen Stacy
,
Hailee Steinfeld
,
HDR10
,
high dynamic range
,
Into the Spider-Verse
,
Jake Johnson
,
Joaquin Cosio
,
John Mulaney
,
Jorma Taccone
,
Katheryn Hahn
,
Kimiko Glenn
,
Kingpin
,
Lake Bell
,
Liev Schreiber
,
Lily Tomlin
,
Lord Miller Productions
,
Luna Lauren Velez
,
Mahershala Ali
,
Marvel
,
Marvel Comics
,
Marvel Entertainment
,
Marvel Studios
,
Marvin Krondon Jones III
,
Mary Jane Watson
,
Miles Morales
,
MJ
,
Multiverse
,
Nicolas Cage
,
Norman Osborn
,
Oscar Isaac
,
Pascal Pictures
,
Penny Parker
,
Peter Porker
,
Peter Ramsey
,
Phil Lord
,
Post Malone
,
review
,
Robert Fisher Jr
,
Rodney Rothman
,
Scorpion
,
Shameik Moore
,
Sony Pictures Animation
,
Sony Pictures Home Entertainment
,
Sony Pictures Releasing
,
Spider-Gwen
,
Spider-Ham
,
Spider-Man
,
Spider-Man Into the Spider-Verse
,
Spider-Man Noir
,
Spider-Man: Into the Spider-Verse
,
Spider-Woman
,
Stan Lee
,
Steve Ditko
,
superhero
,
superhero action
,
superhero film
,
The Digital Bits
,
Tim Salmons
,
Tombstone
,
UHD
,
Ultra HD
,
Wilson Fisk
,
Zoe Kravitz