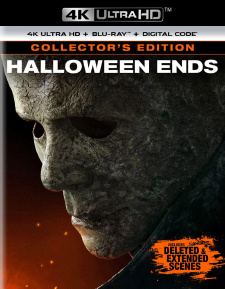 Director
David Gordon Green
Release Date(s)
2022 (December 27, 2022)
Studio(s)
Blumhouse (Universal Pictures)
Film/Program Grade: B
Video Grade: A
Audio Grade: A
Extras Grade: C-
Review
After the backlash of Halloween Kills, hopes weren't high for the final entry in the new Halloween series, Halloween Ends. Walking into it, most people knew what to expect, which was more of the same. But thirteen films into the franchise, we get something Michael Myers-related that goes in an unexpected direction, one that polarized audiences who were lined up at the theater or kicked back on their sofa to experience yet another generic or even poor slasher film, one that was meant to be the end of a trilogy. While it may not satisfy the needs of said trilogy, Halloween Ends is far from generic, and winds up being the most fascinating Halloween film in decades.
It's difficult to talk about the specifics of Halloween Ends without getting into major spoilers (indeed, the opening paragraph of this review is a spoiler in its own way), so for those who haven't seen the film and want to remain as ignorant as possible, you might want to skip this review until you've seen the film.
Some time has passed in Haddonfield, Illinois, and the town is still haunted by the deaths at the hands of Michael Myers, who disappeared. Three years prior, teen-aged Corey Cunningham (Rohan Campbell) accidentally killed a young boy while babysitting, and though he's cleared of any intentional wrongdoing, it ruined his chances of going to college and he becomes forever marked by the locals as a murderer. After a recent run-in with a group of bullies, he finds himself in a sewer where Michael is dwelling, waiting to surface and kill again. Meanwhile, Laurie Strode (Jamie Lee Curtis) is attempting to move on with her life while also maintaining a relationship with her granddaughter Allyson (Andi Matichak). Corey begins an unexpected romance with Allyson, both of whom share a kinship of brokenness and a desire to leave Haddonfield behind, but since the town won't allow either of them to find happiness, Corey becomes driven by rage. He steals Michael's mask, intent on giving into his inner demons by taking on the shape of evil. Laurie suspects this and as Corey makes his way across town, she waits for him to show up at her doorstep, where Michael is also waiting in secret.
While most fans of the Halloween franchise won't agree with me on this, Halloween Ends is the best Halloween film in a very long time, perhaps even over the 2018 reboot/sequel, which I also enjoyed. For the majority of its running time, it's not a film about Michael Myers returning to stab a bunch of folks and have it out with Laurie Strode in the end. We've seen that several times over, and what's refreshing about Ends is that it examines the impact of Michael Myers, sidelining him and allowing a new character to not only inhabit his visage, but analyze what would drive somebody to commit such evil. None of it's cut and dried, nor is it definitive in any way, but watching the tragic trajectory of a character in a world that hates him is well accomplished in this film. Michael Myers popping up in the final minutes to have yet another tussle with Laurie Strode is a tired afterthought, one that the entire marketing campaign was based upon. Whether that was intentionally misleading is another discussion altogether, but I found myself drawn in by the story more than I originally thought I would be. Taking such a drastic left turn this late in the franchise, especially when it's meant to end this new trilogy of films, is subversively intriguing.
Halloween Ends is also a do-over of everything that was done poorly in Halloween Kills. How the tragedies of the 1978 and 2018 films affect a community is given a more somber, less hostile exploration. There are no more chants of "Evil dies tonight!" Now we have a town crippled by its past, even to the point that people occasionally commit suicide. While Halloween Kills was the extreme, over-the-top reaction to Michael Myers, Halloween Ends is the more introspective version of the same story, canvassing a town that remains broken and haunted by the shadow of death that still looms large over them. Laurie Strode in particular wants to move on from these hardships, but the people of the town won't let her forget, even chastising her in public for the simple act of smiling, as if she has a right to do so. In a way, her and Corey are linked thematically, but in Laurie's case, she wants the town's wounds to heal. Corey wants to make new ones.
All of these ruminations on the film's plot are far more intriguing than having yet another sequel of Michael Myers slicing and dicing his way across Haddonfield. It may not be a satisfying end to a trilogy, but it's better than the two previous films combined. I can understand fan disappointment with it on a certain level, but in the years to come, I'm of the opinion that like Halloween III: Season of the Witch (which this film is clearly modeled on in some fashion), Halloween Ends will garner more of an appreciation. It's not a perfect film, but it takes chances that other Halloween sequels simply wouldn't, and the franchise has a richer tapestry because of it.
Halloween Ends was captured digitally by cinematographer Michael Simmonds using Arri Alexa Mini and SXT cameras with Cooke Anamorphic/i and Hawk V-Plus Anamorphic lenses, and finished as a 4K Digital Intermediate in the aspect ratio of 2.39:1. Universal brings the film to Ultra HD mastered from this source and graded for High Dynamic Range (HDR10 and Dolby Vision options are included). The images produced are of stellar quality, with amazing depth in the shadows and inky deep blacks. The digital look of the film clashes visually with footage from the original film, but it's sparing, and the majority of the presentation is strong with greater detail and dimension apparent in the darkest areas of the frame. It has more nuance to it in terms of color, and the HDR passes, especially the Dolby Vision, enrich saturation with added depth in reds, greens, and oranges. Daytime scenes can be a little anemic, but the interiors of some of the houses offer warm palettes. Outside of the 1978 footage, nothing appears out of the ordinary.
Audio options include English Dolby Atmos (7.1 Dolby TrueHD compatible), Spanish 7.1 Dolby Digital Plus, French 5.1 Dolby Digital, and English Descriptive Video Service. Subtitle options included English SDH, Spanish, and French. Like the UHD of the previous film, the Atmos track offers great support for the film's various elements, particularly with its use of the overhead channels. Dialogue exchanges are mostly centered with excellent clarity, but sound effects and score move all around the sound field. Spacing is impressive, particularly for the John Carpenter score, which comes through vibrantly with wonderful dimension. Sound effects have real impact, including slices, stabs, gunshots, blood spurts, and other atmospherics. The LFE channel offers added support to these elements when needed. Overall, an aggressive track.
Halloween Ends on 4K Ultra HD sits in a black amaray case alongside a 1080p Blu-ray featuring the same audio and subtitle options, as well as the same extras. Also tucked away inside is a Digital Code on a paper insert. Everything is housed in a thin slipcover. The following extras are included on each disc in UHD/HDR on the 4K and SDR on the Blu-ray:
DISC ONE (UHD)
Audio Commentary with David Gordon Green, Hugo Garza, Atilla Salih Yucher, Andi Matichak, and Rohan Campbell
Deleted and Extended Scenes: Michael Shakes Things Up (UHD/HDR – 2:24)
Deleted and Extended Scenes: Joan's Bunny Slam (UHD/HDR – 1:06)
Deleted and Extended Scenes: Corey Reflects Upon Himself (UHD/HDR – :33)
Deleted and Extended Scenes: Ronald's Stuck at Work (UHD/HDR – :39)
Deleted and Extended Scenes: Margo Gets the Boot (UHD/HDR – :33)
Deleted and Extended Scenes: Joan's Recipe for Disaster (UHD/HDR – 1:48)
Final Girl (UHD/HDR – 4:40)
No Place Like Haddonfield (UHD/HDR – 7:49)
Gag Reel (UHD/HDR – 2:45)
Ending Halloween (UHD/HDR – 8:26)
A Different Threat (UHD/HDR – 5:43)
The Visions of Terror (UHD/HDR – 5:47)
Twisted Deaths (UHD/HDR – 5:02)
DISC TWO (BD)
Audio Commentary with David Gordon Green, Hugo Garza, Atilla Salih Yucher, Andi Matichak, and Rohan Campbell
Deleted and Extended Scenes: Michael Shakes Things Up (HD – 2:24)
Deleted and Extended Scenes: Joan's Bunny Slam (HD – 1:07)
Deleted and Extended Scenes: Corey Reflects Upon Himself (HD – :34)
Deleted and Extended Scenes: Ronald's Stuck at Work (HD – :40)
Deleted and Extended Scenes: Margo Gets the Boot (HD – :34)
Deleted and Extended Scenes: Joan's Recipe for Disaster (HD – 1:44)
Final Girl (HD – 4:40)
No Place Like Haddonfield (HD – 7:49)
Gag Reel (HD – 2:45)
Ending Halloween (HD – 8:26)
A Different Threat (HD – 5:43)
The Visions of Terror (HD – 5:47)
Twisted Deaths (HD – 5:02)
The audio commentary features director and co-writer David Gordon Green, production assistant Hugo Garza, and co-producer/first assistant director Atilla Salih Yucher, with actors Andi Matichak and Rohan Campbell joining in via Zoom. It's an upbeat chat between the five with some good information about the production doled out, and it's apparent that they all seemed to genuinely have a good time working together. It tends to drop out occasionally, but not for long, and David Gordon Green is primarily in the driver's seat. It's kind of frustrating that they mention or allude to other behind-the-scenes moments and deleted scenes that are not included with this release because, as such, the bonus materials (outside of the commentary) are fluffy, self-inflating, and lawyer-approved. It's basically EPK type material about how great the film is without getting much into the nitty gritty. Final Girl examines Jamie Lee Curtis' impact on the franchise while No Place in Haddonfield talks about the town, the people in it, and how Michael has affected them. Ending Halloween discusses closing the book on this trilogy of films, A Different Threat talks about Corey, and The Visions of Terror talks about Michael and his look. Last is Twisted Deaths, which discusses the various death scenes and how they were achieved.
Say what you will about Halloween Ends, but it's refreshing that after the filmmakers and the studio behind it played things safe for two films they decided to take the leap and do something drastically different that's not just entertaining, but supersedes the films that came before it. Most will hate it because it's not a true closing to a trilogy, but I frankly don't care. I wasn't entirely interested in seeing the film after the previous one, but it exceeded my expectations. Regardless, the UHD presentation is top notch, but now that this series is over, let's get a boxed set together with some substantial bonus materials for a change. Enough with the fluff.
- Tim Salmons
(You can follow Tim on social media at these links: Twitter and Facebook. And be sure to subscribe to his YouTube channel here.)
Tags
2022
,
2160p
,
4K
,
4K UHD
,
4K Ultra HD
,
Andi Matichak
,
Bill Block
,
Blu-ray
,
Blu-ray Disc
,
Blumhouse
,
Blumhouse Productions
,
Candice Rose
,
Chris Bernier
,
Cody Carpenter
,
Daniel Davies
,
Danny McBride
,
David Gordon Green
,
Debra Hill
,
Destiny Mone
,
Dolby Vision
,
DTS-HD Master Audio
,
Haddonfield
,
Halloween
,
Halloween 2018
,
Halloween Ends
,
Halloween franchise
,
Halloween Kills
,
HDR
,
HDR10
,
high dynamic range
,
horror
,
Jack William Marshall
,
James Jude Courtney
,
Jamie Lee Curtis
,
Jason Blum
,
Jaxon Goldberg
,
Jesse C Boyd
,
Joanne Baron
,
Joey Harris
,
John Carpenter
,
Keraun Harris
,
Kyle Richards
,
Laurie Strode
,
Malek Akkad
,
Marteen
,
Michael Barbieri
,
Michael Myers
,
Michael O'Leary
,
Michael Simmonds
,
Michele Dawson
,
Miramax
,
native 4K
,
Nick Castle
,
Omar Dorsey
,
Paul Brad Logan
,
remake
,
review
,
Rick Moose
,
Rohan Campbell
,
Rough House Pictures
,
sequel
,
shot on 35 mm film
,
slasher
,
The Digital Bits
,
The Shape
,
Tim Alverson
,
Tim Salmons
,
Trancas International
,
Trancas International Films
,
Ultra HD
,
Universal
,
Universal Pictures
,
Will Patton