Wednesday, 12 September 2012 17:00
FYI... a lot of readers have been asking for images of the special marking CBS has added to their Star Trek: The Next Generation - Season One Blu-ray packaging in order for people to identify the fixed version on store shelves. So here you go. Both the outer cardboard O-ring and the cover insert have the same marking - a small delta shield symbol on the spine just below the CBS Blu-ray logo. Also, the UPC symbol on the back is YELLOW on the fixed disc packaging, whereas the original was white. And as we've already reported, the discs now have the delta shield symbol on them as well...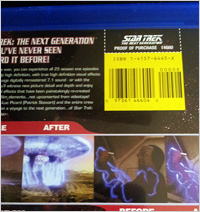 So that's how you can spot the fixed version. Happy hunting, folks.!
- Bill Hunt