Displaying items by tag: Indicator
Friday, 19 January 2018 18:00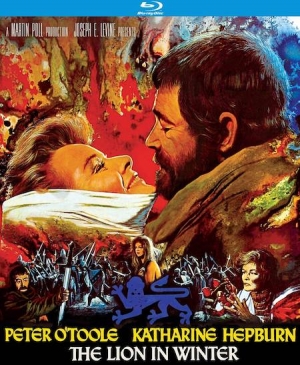 We're closing out the week today with another pair of new Blu-ray reviews from Tim, including JD's Revenge from Arrow Video and also Attack Force Z from Umbrella Entertainment. Do give them a look.
In announcement news today, Lionsgate has set Hèctor Hernández Vicens's Day of the Dead: Bloodline for release on Blu-ray and DVD on 2/6.
Kino Lorber Studio Classics has revealed that it will release Topaze (1933) on Blu-ray and DVD on 3/6. Extras will include audio commentary by film historian Kit Ellinger and a trailer. Better still, Kino will release a The Lion in Winter: 50th Anniversary Edition (1968) on Blu-ray and DVD on 3/13, mastered from a 2016 4K restoration, featuring audio commentary by director Anthony Harvey, an interview with sound recordist Simon Kaye, both 5.1 and 2.0 audio, and the trailer. You can see the cover artwork for both below. [Read on here…]
Friday, 14 July 2017 11:13
All right, no official update yet from Disney on the HDR on Guardians of the Galaxy Vol 2 4K. There are reports that Dolby is claiming Dolby Vision will only be on the 4K streaming version, but we haven't been able to confirm that yet. So stay tuned.
Disney has however, officially just announced (at D23) that they're releasing Pirates of the Caribbean: Dead Men Tell No Tales on Blu-ray, DVD, and 4K Ultra HD on 10/3, with the Digital release due on 9/19. We know that it will have HDR (so HDR-10, no word specifically of Dolby Vision) and that it will include Dolby Atmos audio. "Bonus material includes a collection of behind-the-scenes, making-of stories, including a conversation with directors Joachim Rønning and Espen Sandberg; a sit-down with the two young newcomers who play Henry and Carina; the secrets behind the menacing new villain, Salazar, and his ferocious ghost sharks; an on-set visit with Jack's first mate from all five films; a chat with Sir Paul McCartney who appears as Uncle Jack; and a discussion about the franchise's legacy; along with hilarious bloopers, deleted scenes and memories from producer Jerry Bruckheimer's photo diary." No other details are yet available. You can see the cover art at left.
Meanwhile, we have two new Blu-ray reviews for you today: Tim has checked out Vinegar Syndrome's Psycho Cop Returns and Psychic Killer, both worth your time if you're a fan of the genre. Do check them out. [Read on here…]
Thursday, 06 July 2017 18:00
All right, it's been an exciting few days for Blu-ray and 4K Ultra HD release news, with the latest being director James Gunn's confirmation that Guardians of the Galaxy Vol. 2 is soon to be announced for Blu-ray, Blu-ray 3D, DVD, and 4K Ultra HD (see our post from early this morning). We expect Disney's official announcement in the next two weeks.
Before we get started today, I'm excited to announce that I'll be moderating the official Breaking News from Shout! Factory and Scream Factory panel at Comic-Con in San Diego later this month! Here's the official write-up from Shout:
"Genre and horror film buffs, collectors and pop culture enthusiasts alike won't want to miss Breaking News from Shout! Factory and Scream Factory. At 8 pm on Friday, July 21st in Room 4, join Jeremy Whitham (Development Director), Brian Ward (Sr. Director of Blu-ray and DVD Production) and Jeff Nelson (Sr. Marketing Director) as they make special announcements and unveil exclusive sneak peeks of upcoming Blu-ray collector's editions and new movies coming to theaters this fall. A fan-driven insider's event filled with lively discussion and a few surprises, this panel discussion and Q&A will be moderated by Bill Hunt of The Digital Bits."
It should be a lot of fun, so if you're going to be attending the Con, please be sure to drop in for it. I'll be a panelist on another panel at the Con as well, which I'll tell you more about next week. [Read on here…]