Monday, 22 October 2018 15:05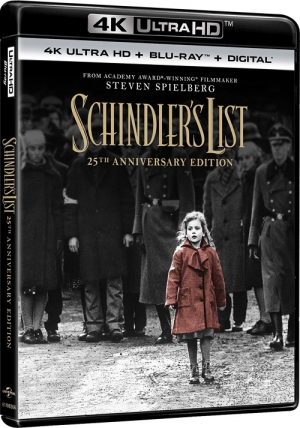 The big news today isn't quite official yet, but we expected the press release at any time: Universal will release Steven Spielberg's Schindler's List: 25th Anniversary Edition on 4K Ultra HD on 12/18, as we've been saying for a while now. In addition to a new 4K scan, the audio will be English Dolby Atmos, with HDR10 high dynamic range. The previous Blu-ray edition will also be included with DTS-HD MA audio.
There's a new retrospective featurette: Schindler's List: 25 Years Later, featuring video of a panel and Q&A with Spielberg, Liam Neeson, Ben Kingsley, Embeth Davidtz, and Caroline Goodall recorded at the Tribeca Film Festival earlier this year. You also get the previous extras and a Movies Anywhere Digital copy. And here's the deal: The title is now available for pre-order on Amazon.com at this link. You can see the official cover artwork to the left and also below.
Also newly available for pre-order on Blu-ray and 4K are Night School (with a street date of 1/1/19), Halloween (2018), First Man, and The House with the Clock in its Walls. We've updated The 4K Ultra HD Release List here at The Bits accordingly. [Read on here...]