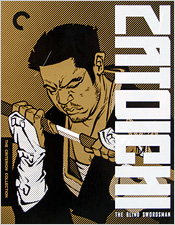 Director
Various (see review text)
Release Date(s)
1962-1973 (November 26, 2013)
Studio(s)
Daiei Studios/Toho Co. Ltd./Katsu Production Co./Janus Films (Criterion - Spine #679)
Film/Program Grade: See Below
Video Grade: A-
Audio Grade: B
Extras Grade: A
Overall Grade: A
Review
It's the little things that make life grand. Little pleasures, like steaming hot pie (pizza or rhubarb), a good comic book, a fine beer, killer klowns, spaghetti westerns or even a giant robot flick. But nothing – and we mean nothing – is better than watching a blind samurai kicking ass in the comfort of your home theater. And there's really only one blind samurai worth his salt: the legendary Zatoichi.
Ichi first appeared in a 1948 short story by novelist Kan Shimozawa, based on a real historical incident that took place in 1840s Japan. (To put this era in context, the California Gold Rush was underway in the States and Morse had just invented the telegraph.) Japan was in the midst of its Edo period, under the rule of the Tokugawa shogunate. Shimozawa's story tells of war between two yakuza bosses, one of whom had enlisted the support of a travelling masseur with uncanny abilities. In this passage lies the key to the character: "Blind though he was, Zatoichi was a master swordsman with a lightning draw: He had only to lay a hand on his sword for an opponent to shrivel in fear."
Shimozawa's story was so popular that Daiei Studios (now Kadokawa Pictures) quickly seized the opportunity to adapt it into a jidai-geki film, featuring one of their young contract players, Shintaro Katsu. The studio had struggled to find the right vehicle for the actor, but with 1962's The Tale of Zatoichi they realized that Katsu could play a classic anti-hero with tremendous financial success. Because television came relatively late to Japan, the local film studios chose to compete by bringing the new medium's serialized storytelling to theaters first. As a result, Katsu's Zatoichi starred in no less than 26 films between 1962 and 1989 – a series that was as popular in Japan as the James Bond films are elsewhere. The Ichi films offer not only gripping chanbara (swordplay) action and dynamic widescreen cinematography, but also a surprising degree of humor and humanity. Though Ichi is a yakuza of extraordinary and deadly ability, he only uses those talents when forced by his enemies and then usually in service of the poor and downtrodden – all no doubt keys to the franchise's success. When film could no longer outcompete the small screen in the 1970s, Katsu appeared as Ichi in some 100 TV episodes as well.
The opportunity to watch the character grow over so many years and adventures in the hands of a single actor is part of what makes this series so enjoyable. Shintaro Katsu was an instinctive entertainer and a fine character actor, whose ability to convey emotion with movement and gesture follows in the tradition of Charlie Chaplin and Buster Keaton. His popularity in Japan could be compared to that of John Wayne in the Hollywood cinema. In addition to his extraordinary performance in front of the camera, Katsu directed two of the Ichi films, Zatoichi in Desperation in 1972 and a final installment in 1989 (more on that in a minute). He personally choreographed nearly all of the sword fights in these films. He even produced several of the films after Daiei went bankrupt, as well as the popular Lone Wolf and Cub series of films which starred Katsu's older brother, Tomisaburo Wakayama. It may also surprise you to learn that Katsu was Akira Kurosawa's original choice to play the title character in the 1980 epic Kagemusha. Though the role was written for him, it eventually went to Tatsuya Nakadai when Katsu and Kurosawa were unable to resolve a conflict of personality in their work methods. Nevertheless, another longtime Kurosawa collaborator, Toshirô Mifune, co-starred with Katsu in two films in something of a talent swap: Mifune appeared in the 1970 Zatoichi Meets Yojimbo (produced by Katsu – a sly reprisal of Mifune's character from Kurosawa's Yojimbo and Sanjuro), while Katsu in turn appeared in the Mifune-produced Incident at Blood Pass that same year (which is neither a Zatoichi or a Yojimbo tale).
Criterion's Dual Format release collects all of the first 25 original Zatoichi films together in one boxed set, on both Blu-ray and DVD formats, including the rare Zatoichi's Pilgrimage, which fans will know has never been officially released on disc here in the States.
The Blu-ray high-definition image quality is impressive, especially when you consider the age of this material and the fact that older Japanese films have sometimes suffered from poor preservation. The first two installments are presented in their original black and white. Contrast is superb, with rich blacks and surprisingly good shadow detailing. Detail is subtle and refined, with lovely texture and light grain apparent, all of which renders a very film-like appearance to the image. Beginning with the third installment, the films appear in color. As with the black and white image, texture and detail are terrific, aside from the odd shot here and there that appears optically soft. Colors are accurate at all times, though they can often be somewhat muted as a result of choices in production design. Contrast is also generally quite good in the color films, with mostly deep blacks, though the first couple (and also the later films of the 1970s) do tend to have blacks that are a bit more crushed, probably due to changes in the film stocks used over that period. The color films of the mid-to-late 1960s are the best looking of the lot. All of these masters have also been digitally cleaned of dust and dirt, so really only the occasional nick on the print is visible. Frankly, the most impressive aspect of Criterion's work here is that, in spite of subtle variations, these films consistently exhibit a very high level of video quality, particularly for such a large group of films produced over a wide range of time. Even if you chose only to watch these films on the anamorphic widescreen DVD versions available here, you'd be seeing them in better quality than ever before. But viewing them in fully-restored, high-bitrate HD on Blu-ray is truly revelation for Zatoichi fans. Every blade of grass, every strand of straw in a hat, the hand-worn texture of Ichi's cane sword handle – it's all here to delight the viewer.
The original Japanese audio is presented in 48/24 LPCM 1.0 mono on Blu-ray for all the films, with English subtitles, while the DVDs offer the same in Dolby Digital 1.0 mono. The audio is exactly what you'd expect from mono tracks of this age – somewhat flat sounding but generally clear and accurate outside of a bit of distortion in the opening credit music, which is an issue of the source material and nothing to do with the BD mastering. Such limitations aside, the audio quality in this set is very respectable overall and, like the video, is as good here as it's ever been. For those of you who may be wondering, the packaging indicates that these are new English subtitle translations and Criterion has confirmed to us that the subtitles for all the films have been revised for this set. (So now, in the first film for example, Ichi more correctly smells the plum blossoms instead of apricot as in the previous Home Video DVD release.)
As you'd expect from Criterion, there are a number of fine extras included – not a large amount of material, but the quality and rarity of what you get is extraordinary. It starts with the original Japanese theatrical trailers for all 25 films in the set, each in remastered HD on the Blu-rays (and anamorphic widescreen on DVD). Yep – all 25. Then you get a 58-minute documentary by filmmaker John Nathan called The Blind Swordsman. This was produced on 16mm in 1978 for a series on the Japanese people on PBS. To call this a remarkable find for Ichi fans is an understatement. Nathan and his crew essentially followed actor Shintaro Katsu around for three months during the filming of an episode of the TV series. You see Katsu on the set directing the episode, with his slavishly-loyal team in their production offices, in extraordinarily candid moments with his children, in full drunken revelry at a disco with his entourage and even with his father, who was a respected shamisen musician. At several points in the piece, Katsu lays bare his thoughts and feelings to Nathan in interview moments. You even see Katsu telling his teenage daughter that she's free to marry anyone she wants to, whether or not he approves of her choice – but that under certain circumstances he might have to kill the man. As a fascinating glimpse of Katsu, the human being, this piece is unrivalled. You get a picture of a man who was intensely loyal, full of contractions, creatively brilliant and who was frequently driven by his passions to excess – very much the 'live fast and die hard' character his reputation suggests, but also much more. The documentary is accompanied by a new 18-minute retrospective interview with Nathan, who recalls additional stories of his time with Katsu. Then you get an excellent 27-minute interview with the British film critic and Asian cinema historian Tony Rayns, who offers expert detail and background information on Katsu and the films to place them in the proper context. All of these video-based extras are available on both the Blu-ray and DVD discs here.
Finally, the box set includes a 95-page hardback book that offers an essay on the character by critic Geoffrey O'Brian, plot summaries and background notes on all 25 films by Chris D. (with credits and original artwork for each), a new English translation of Kan Shimozawa's complete original short story – an extraordinary treat all by itself – and additional notes about the transfers and remastering work. For English speaking audiences, there's been a dearth of truly informed and accurate information about the history of the Zatoichi films available outside of Japan. So as a fan, starved to learn more about this actor and his greatest character, what you get here feels like treasure. Every bit of this material is worth sinking your teeth into.
All of it comes packaged in an oversized cardboard slipcase, decorated with brightly-colored Sotatsu-style artwork featuring the character in various iconic moments. Inside is the hardback companion book as well as a thick, book-like package that contains the actual discs – 27 in all. When you open the package, the right-hand page holds a Blu-ray while left side lists the films it contains. The left-hand page then opens further to reveal a pair of DVDs containing the same films. It continues like this for page after page and film after film. Here's a look at the set's open packaging…
A couple of additional notes: If you love these films as much as we do, once you're finished with this set (and – trust us – it's going to take you a while), we're pleased to say that there's still more for you to enjoy. As we suggested earlier, the story of Katsu's Zatoichi continued in two Japanese TV series. The first, The Tale of Zatoichi (known as Zatoichi Monogatari in Japan), appeared in 1974 and ran for 26 episodes. This was followed by a second TV series in 1976, New Zatoichi (or Shin Zatoichi), that ran for three more seasons – 29 episodes in 1976, 19 episodes in 1978 and 26 episodes in 1979. The first series is still available on DVD in 6 volumes from Tokyo Shock. All three seasons of the second series are now finally available on DVD too (if "unofficially") from SamuraiDVD.com. In addition, Katsu produced and directed one additional feature film in 1989, Zatoichi (also sometimes known as Zatoichi: Darkness is His Ally), which is available on DVD from Tokyo Shock as well. The difference in rights assignments explains why this final film isn't included in the Criterion box (and obviously the TV material would fill a whole other box set by itself). It's worth noting though that the character evolved significantly over the TV series, so the 1989 film in many ways doesn't really fit with the previous installments included here. Hopefully, Tokyo Shock will release the final film on Blu-ray separately in the future.
In our more than sixteen years of work covering the home video industry here at The Digital Bits, this is probably the box set that's most surprised and delighted us – not just because we love these films so much or because Criterion has delivered them in their trademark high level of quality, but also because we never seriously imagined a set like this would ever see the light of day on DVD, much less Blu-ray. A Zatoichi BD box has been a dream release for us – a holy grail to rank right up there with Warner's Blade Runner: The Final Cut briefcase. Now here it sits, in our grateful hands, and we are appropriately amazed. Not every Zatoichi film qualifies as great cinema, but even when the series falters a bit, every single one of these films is still well worth your time. You simply can't go wrong here. Criterion's Dual Format Zatoichi: The Blind Swordsman box set gets our highest recommendation… and damn well deserves it. This is 25 films' worth of pure samurai awesome.
- Bill Hunt and Todd Doogan
That concludes our overall review of this box set, but if you continue reading over the next several pages (or simply select titles from the list below), you'll find our reviews of all 25 films in this set – easy guides to lead you into the world of Zatoichi. Each review is accompanied by original art Criterion commissioned for the film. Note that, in a unique move, Criterion has given only the entire box a spine number, not the individual films.
Zatoichi: The Films Reviewed
---
1 – The Tale of Zatoichi (Zatoichi Monogatari)
1962 – Daiei Studios – Director: Kenji Misumi
Film Rating: B+
Video/Audio: A-/B
Here's what you need to know going into this film series: Don't let first impressions fool you. Ichi is one of the best swordsmen out there. On the outside, he seems like another ragged-poor blind man. To those meeting him for the first time, he's nothing more than a schluby, low-tier yakuza gambler, travelling from village to village handing out massages to pay his living expenses (a common occupation for the blind at this time). But those who've heard Ichi's name whispered in the dark fear him. When corrupt politicians or yakuza hoods figure out that Ichi's not your run of the mill anma, it's too late – a lot of them are going to die, quick and bloody, with an underhand slash of his cane blade.
In this first installment of the series, Ichi stumbles into a yakuza turf war between Boss Sukegoro in Iioka and Boss Shigeza in Sasagawa. Thinking he's simply visiting Sukegoro as he passes through, Ichi is drawn into the conflict by the Boss because of his legendary sword skills. Ichi wants nothing to do with it, but money is money. While passing the time fishing, however, Ichi meets Boss Shigeza's hired gun – a ronin named Hirate. Hirate is an honorable man but has a secret, part of which involves a desire to die an honorable death. Will Ichi provide that death… or has he met his match?
Based directly on the short story by Kan Shimozawa, The Tale of Zatoichi is a solid samurai film. It's not the best of this series, but it's certainly a grand introduction to the character and a touchstone for many of the themes and gags presented in the later films, including Ichi's tendency to step into the middle of love triangles (when he gets involved with his handler's sister, Otane – a character that returns in the next film as well as in Zatoichi the Fugitive). The charm here is really the joy of starting at the beginning and watching this character grow and develop throughout the series. You'll be surprised how easy it is to binge on the Zatoichi films once you get hooked on them here.
- Todd Doogan and Bill Hunt
2 – The Tale of Zatoichi Continues (Zoku Zatoichi Monogatari)
1962 – Daiei Studios – Director: Kazuo Mori
Film Rating: B+
Video/Audio: A-/B
As the title suggests, this is a direct continuation of the story in the first film. That's a bit unusual in this series – all the sequels have a chronological fit, but rarely do their stories connect so directly. The Tale Continues actually picks up about a year later. Ichi is returning to Iioka to visit the grave of a fallen friend and time hasn't cooled Boss Sukegoro's anger – even though Ichi did what he was hired to do, his choices still brought the Boss grief. On the way, Ichi is hired to massage a travelling Lord from Edo, who seems to have late-stage syphilis because he's super crazy. His men wish to hide this condition, so when Ichi sees the man acting out during the massage, assassins are sent to kill him afterwards. Of course, that doesn't go well for the assassins. Ichi reaches Iioka, where he meets Otane again as well as a mysterious one-armed swordsman somehow connected to his past. To make money and save face, the one-armed man offers to kill Ichi for Sukegoro – which will also help Sukegoro curry favor with the crazy Lord's men. This leads to an all-out finale – a "duel to end all duels."
The Tale of Zatoichi Continues really ups the ante and caps off the first story nicely. This film moves fast, offering great fights and plenty of character development for Ichi, including a rare peek into his past. Samurai film fans should take note – the one-armed man here is played by Tomisaburo Wakayama, the real-life brother of Katsu and later the star of the Lone Wolf and Cub films. This is also the last Zatoichi big screen adventure presented in black and white, which adds to its charm. As we continue, you'll see that color does something very interesting for the Zatoichi films.
- Bill Hunt and Todd Doogan
3 – New Tale of Zatoichi (Shin Zatoichi Monogatari)
1963 – Daiei Studios – Director: Tokuzo Tanaka
Film Rating: B+
Video/Audio: B+/B
After he's attacked by yakuza thugs (as part of the fallout of the events from The Tale of Zatoichi Continues), Ichi decides to renounce his violent ways – something that will become a running theme for the character. Returning to the village he considers home, Ichi discovers that things have changed much while he was away. His old teacher, Banno, has turned bad and now thinks of Ichi as little more than a circus animal that's learned some clever tricks. Banno is pushing his sister, Yayoi, to marry a man she doesn't love for financial reasons. Remembering their past affection, Yayoi asks Ichi to marry her instead and Ichi seriously considers it. Meanwhile, the brother of Boss Kanbei – whom Ichi killed in the last film – attempts to exact revenge, whether Ichi has renounced violence or not.
Here we see Ichi in his first color adventure, which not only opens up Ichi's world visually but also adds significant texture missing from the first two films. Director Tokuza Tanaka's use of the widescreen format is truly genius here. Like The Tale of Zatoichi Continues, this story has a direct connection to the previous installments, making it the conclusion of an interesting narrative trilogy that reveals still more about Ichi's origins. In terms of BD image quality, the blacks here are a little crushed with muted colors, but image detail is very good. Note that the image quality of all these films is quite high, so from here on out we won't say much about it unless there's something that needs saying.
- Todd Doogan and Bill Hunt
4 – Zatoichi the Fugitive (Zatoichi Kyojo-Tabi)
1963 – Daiei Studios – Director: Tokuzo Tanaka
Film Rating: B-
Video/Audio: B/B
Entering the township of Shimonita, Ichi learns that he's a wanted man with a bounty on his head. He also learns that Otane (the woman he loved as a youth and lost in the previous films) has now taken up with a ruthless ronin, who's sworn to take Ichi's head to claim the reward. When things spiral out of control, Ichi lets his sword do the talking and it seems that no one will walk away without being cut by his blade.
Though The Fugitive is one of the weaker installments in the series, a weak Ichi film is still a good Ichi film. The plot is a bit slow-going, but the cinematography here is lush and active. This film also offers some good moralizing on Ichi's part and more nice character development as well.
- Bill Hunt and Todd Doogan
5 – Zatoichi on the Road (Zatoichi Kenka-Tabi)
1963 – Daiei Studios – Director: Kimiyoshi Yasuda
Film Rating: A
Video/Audio: A-/B+
In the midst of a bloody turf war between two rival yakuza clans, Ichi is sworn to protect the life of a young woman who dared to refuse the advances of one of the clan's lords. Soon both sides suspect him of helping their enemy, so a reluctant Ichi finds himself drawn into the conflict, leading to one of the greatest climactic battle scenes depicted on screen since Kurosawa's Seven Samurai.
On the Road is easily the best entry in the series to this point. The film's action starts red hot and keeps getting hotter. Director Kimiyoshi Yasuda's work here was so good that he would return to helm five more installments in the series, including Zatoichi's Conspiracy in 1973. Note that the color in this installment is a little bit more vibrant, with slightly darker blacks and improved shadow detail.
- Todd Doogan and Bill Hunt
6 – Zatoichi and the Chest of Gold (Zatoichi Senryo-Kubi)
1964 – Daiei Studios – Director: Kazuo Ikehiro
Film Rating: B
Video/Audio: A-/B
After paying his respects at the grave of a man he once accidentally killed, Ichi arrives at a village to find the impoverished locals in mid-celebration. It seems they've finally gathered enough money to pay off their heavy tax burden – a great relief to everyone in this drought-stricken area – so they invite Ichi to join in their fun. When the tax money is subsequently stolen by a group of samurai thugs, the villagers accuse Ichi (given his yakuza repetition) of being in on the heist. Desperate to clear his name, Ichi swears to find those responsible and return the money. But it won't be easy. First, Ichi has to investigate a local boss who's gone into hiding. Then he'll have to tangle with the thugs who took the cash, one of whom is his toughest adversary yet – a samurai by the name of Jushiro, who wields a dangerous bullwhip as skillfully as Ichi wields a sword.
Zatoichi and the Chest of Gold is the most theatrical entry in the Ichi series. Its stylized opening credit sequence recalls the Bond films – possibly no accident given the sensation caused by Dr. No and From Russia with Love at the time. Chest of Gold is also the first installment in the series to graphically depict violence in a way that's become typical of modern samurai films, with every flick of a blade seeming to hit an artery. When the swords fly here, so does the blood. Making this film even more interesting are Ichi's several face-offs with Jushiro, first over a game of chance and later on the field of battle. Ichi buffs will note that Jushiro is played Tomisaburo Wakayama, returning to the series once more after his appearance in the second film (though in a different role here).
- Bill Hunt and Todd Doogan
---
7 – Zatoichi's Flashing Sword (Zatoichi Abare Tako)
1964 – Daiei Studios – Director: Kazuo Ikehiro
Film Rating: B-
Video/Audio: A/B+
Zatoichi is, as ever, on the run from gangsters when he's shot in the back by a thug who's trying to prove his own worth. When Ichi awakens, he finds that he's being well tended to because a kind passerby left money for his care. Hoping to repay this kindness, Ichi tracks his benefactor down and learns that she's the beautiful daughter of a local boss. This boss is generous and well-liked by his people, but a rival and more corrupt boss is determined to steal his business. So once again, Ichi finds himself taking sides in yet another yakuza turf war.
The plot here is a little thinner than in most of the Ichi films, and that's saying something. But what Zatoichi's Flashing Sword lacks in complexity, it more than makes up for in humor, action and cinematic style. The film's title music has touches of Bernard Herrmann and its climatic ending, vibrantly colored by the light of exploding fireworks, is a classic. Flashing Sword also features one of the best opening scenes in the series (which clearly inspired a scene with Mr. Miyagi from The Karate Kid decades later). Let's just say… there're no flies on old Ichi.
- Todd Doogan and Bill Hunt
8 – Fight, Zatoichi, Fight (Zatoichi Kessho-Tabi)
1964 – Daiei Studios – Director: Kenji Misumi
Film Rating: B+
Video/Audio: A-/B+
Fight, Zatoichi, Fight finds our favorite blind masseur once more on the run. This time, he's being pursued by a ruthless band of samurai hired to kill him. Thinking they have Ichi cornered, they instead kill a young woman who is returning to her husband with their infant son. Feeling responsible for the woman's death, Ichi resolves to deliver the child safely to its father. Naturally, the samurai aren't giving up and continue to harass him. Complicating matters further, Ichi also saves the life of another young woman, who's been scratching out a living as a petty thief. To pay back his kindness, she reluctantly agrees to accompany Ichi and help him care for the child. But as they near their destination, each of them grows more attached to the baby and sees it as a chance to start over and lead a better life.
Zatoichi's image as a deadly-dangerous swordsman is in sharp contrast to the sweet, humble and even loving fellow he becomes in the presence of a child here. That simple change tells you a great deal about who Ichi really is – far more than would any exposition of the kind you'd get in a typical Hollywood film. Katsu makes the most of his chance to play a different side of Ichi, revealing a warmth and humor that shines off the screen. And though you'd think a child would handicap him in battle, Ichi shows just how good a swordsman he really is, dispatching multiple enemies without breaking a sweat... and all while changing a diaper. This is a classic Ichi tale and a great entry in this series. For you trivia buffs, this film was also the inspiration for the Rutger Hauer's Blind Fury.
- Bill Hunt and Todd Doogan
9 – Adventures of Zatoichi (Zatoichi Sekisho-Yaburi)
1964 – Daiei Studios – Director: Kimiyoshi Yasuda
Film Rating: C+
Video/Audio: A-/B
There's nothing like a new year to inspire a fresh round of greed, corruption and graft in the heart of your average yakuza boss. At least, that's what Ichi learns when he arrives at a small village to find himself in the middle of a bureaucratic plot to suck every last coin from the pockets of the kind residents. Ichi has travelled to the village at the request of an escaped criminal, who's asked him to deliver a letter to his sister. Finding the place deep in preparation for the New Year's celebration, Ichi quickly befriends the performers, including two young tumblers who act as his eyes for the rest of the film. Ichi eventually takes lodging in a crowded inn, where he shares a room with a woman named Saki. As it happens, Saki is on a mission to find her missing father and Ichi soon discovers that his new roommate is connected to both the escaped criminal and the local corruption. Ichi's desire to help the woman also raises the ire of a samurai who's eager to best the legendary blind swordsman.
Adventures of Zatoichi was the last of four films released back to back in 1964. This isn't the best of the bunch but, as we've said before, even an average Ichi flick is better than most other films out there. The best part of this installment is the supporting cast, which includes a number of legendary Japanese comedians. They deliver a good bit of humor and slapstick here. Note that the color, contrast and detail in this BD image are very good, though the blacks look a little gray at times.
- Todd Doogan and Bill Hunt
10 – Zatoichi's Revenge (Zatoichi Nidan-Giri)
1965 – Daiei Studios – Director: Akira Inoue
Film Rating: A
Video/Audio: A-/B
Zatoichi's Revenge finds the blind swordsman visiting one of the villages of his youth – the place where, under his mentor Hikonoichi, he first learned to be a masseur. But Ichi discovers that Hikonoichi has recently been murdered and his daughter forced into prostitution. Typical of the corruption subplots in this series, it turns out that a local bureaucrat and his gambling chief have set up a scheme to claim the daughters of their debtors as prostitutes. Naturally, Ichi's plan to free his mentor's daughter (as well as the other girls) can only end in a series of bloody brawls that are sure to delight fan of this series.
Zatoichi's Revenge is definitely among the top three best Zatoichi installments ever made. Even though it starts off on a comedic footing, it ends up packing a serious action wallop. Ichi's sword tastes blood over and over again in this film, and it rocks. Another reason this is one of the best in the Ichi series is because of the character's growth here. Simply put, Ichi is as badass in this film as he's ever been. It's almost as if Sam Peckinpah borrowed the name of director Akira Inoue to make this a spaghetti western-infused samurai flick. There just aren't enough good things to say about it. If you've enjoyed Ichi up until this point… you'll loveZatoichi's Revenge.
- Bill Hunt and Todd Doogan
11 – Zatoichi and the Doomed Man (Zatoichi Sakate-Giri)
1965 – Daiei Studios – Director: Kazuo Mori
Film Rating: B
Video/Audio: A/B
While locked up on gambling charges, Ichi meets a man named Shimazo who is sentenced to die. Shimazo claims to be innocent and, knowing Ichi will soon be released, begs him to find the one man who can prove his innocence and also tell his family he'll be home soon. After his recent string of grueling adventures, Ichi is hesitant to accept this errand and initially decides not to – perhaps the only time in this series that Ichi chooses to avoid helping someone in need. But this is an Ichi film, after all, so Fate (as well as a con man's inept scheme) puts him right back on the Good Samaritan's path. He quickly learns that friends are foes, greed rules all… and everyone is somehow involved. Such is Ichi's lot in life – round and round the circle goes.
In addition to his work here, director Kazuo Mori helmed a pre-Zatoichi film for Daiei as well called The Blind Menace (1960), also starring Katsu as a blind masseur, though an evil one. The financial success of that film played a direct role the development of the later Ichi series.
- Todd Doogan and Bill Hunt
12 – Zatoichi and the Chess Expert (Zatoichi Jigoku-Tabi)
1965 – Daiei Studios – Director: Kenji Misumi
Film Rating: A-
Video/Audio: A/B
While travelling by boat to the island of Enoshima, Ichi befriends a chess-playing samurai named Tadasu Jumonji. Impressed with his blind playing skills, Jumonji decides to join Ichi in his travels. To make a little money along the way, Ichi pulls his trademark dice game scam on a group of thugs. Connected to the locally-influential Banyu crime family (and seeking their revenge), the thugs cause Ichi trouble upon arrival in Enoshima. During a scuffle, Ichi sends one of them flying out a window, where the man lands on a young girl named Miki. Miki is hurt and her guardian, a pretty shamisen player named Tane, can't afford to pay for the medicine she needs. Feeling responsible, Ichi raises the necessary funds to save the girl's life. But who is Tane really, and why are a group of men hunting her? Is Jumonji truly a friend to Ichi or an enemy waiting to pounce on him? And how do the mysterious Sagawa, Roppei and Kume fit into the story?
Zatoichi and the Chess Expert is pure Ichi fun – a great installment to spin if you're choosing to sample just the classic entries in this series. This film has everything that makes Ichi so great, including fine humor, Ichi's usual affection for children, a subtle and twisting match of wits and some truly great sword fights. Actor Mikio Narita, who plays Jumonji, will be familiar to some of you – he was a regular in many of Daiei's yakuza films in the 1960s.
- Bill Hunt and Todd Doogan
---
13 – Zatoichi's Vengeance (Zatoichi No Uta Ga Kikoeru)
1966 – Daiei Studios – Director: Tokuzo Tanaka
Film Rating: B+
Video/Audio: A/B
Ichi stumbles upon a dying man, who was attacked after being caught cheating at dice. The man asks Ichi to give his stolen money to someone named Taichi, but dies before revealing his whereabouts. Not knowing where to find Taichi, Ichi continues on his journey and soon bumps into a blind priest, who directs him to the sleepy hamlet of Ichinomiya. But Ichi discovers that Ichinomiya is no sleepy town – it's being taken over by a gang of ruthless yakuza, who demand that all the local business owners pay them to continue operating. Naturally, Ichi encounters the Taichi fellow he was asked to find, who turns out to be the dying man's son. Ichi also bumps into a disgraced samurai, who's looking to buy back his wife's retainer from the local whorehouse using money he can earn by collecting Ichi's head. But Ichi isn't about to hand it over.
Zatoichi's Vengeance is another good entry in the series. It's sort of understated, but still manages to be rip-roaring fun for its 80-something minute length. Fans of the Ichi films may note the return of actor Shigeru Amachi here as the disgraced samurai. Amachi appeared in a different (though similar) role in the very first film in this series, The Tale of Zatoichi.
- Todd Doogan and Bill Hunt
14 – Zatoichi's Pilgrimage (Zatoichi Umi O Wataru)
1966 – Daiei Studios – Director: Kazuo Ikehiro
Film Rating: A-
Video/Audio: B+/B-
In a story that recalls the third film in this series, Ichi decides to seek penance for all of the death he's dealt over the years. Making a special boat trip to a temple in Shikoku, he appeals to God for the violence to end and vows to stop at every temple in Japan to make the request. Of course, right after his prayer, Ichi is attacked on the Yarui Bridge by a horseman named Eigoro. Ichi begs him not to fight, but naturally they do and – as you'd expect – Eigoro dies. As he continues on, lamenting his plight, Ichi is followed by Eigoro's horse. Soon the animal leads Ichi back to his fallen master's house, where he meets Eigoro's sister, Okichi. Realizing what's happened, the woman attacks Ichi, who refuses to fight back. After a fumbling exchange of niceties and Japanese ethics, they strike up a friendship and Okichi tends to Ichi's wounds. While recuperating, he learns that Eigoro was hired by a yakuza oyabun to kill him. This greedy boss, named Tohachi, did this to earn points with an enemy of Ichi's as well as to get rid of Eigoro (knowing full well that Ichi would win). It seems that Tohachi also secretly wants to take Eigoro's land, house and quite possibly Okichi as well – but Zatoichi isn't having any of that.
This is the first time Zatoichi's Pilgrimage has officially found its way onto disc in the States and, as far as we're concerned, it's one of the crown jewels of the series. (Note that the film is also sometimes known as Zatoichi's Ocean Voyage.) There's a ton of great stuff here. The character of Tohachi is a fine villain, whose weapon of choice is a bow and arrow – a twist that results in some interesting battles with Ichi. Naturally, Katsu milks his character moments here for all they're worth. Ichi and Okichi make a nice little family for the few days they have together. Note that while the music in the opening is a bit distorted, the audio is fine for the rest of the film. The BD image is also a little soft, but there's good color, contrast and detail.
- Bill Hunt and Todd Doogan
15 – Zatoichi's Cane Sword (Zatoichi Tekka-Tabi)
1967 – Daiei Studios – Director: Kimiyoshi Yasuda
Film Rating: A+
Video/Audio: A-/B
Ichi hitches a ride with a traveling theatrical troupe on their way to Tonda, where he enters into yet another a dice game and naturally cleans house. As you might guess, the losers are all yakuza and they want their money back. Not one to take guff from their ilk, Ichi quickly makes mincemeat out of them. But when a local retired sword maker happens to examine Ichi's sword, he discovers it was made by his old sensei and predicts it will break in two during Ichi's next battle. So Ichi swears off sword fighting and spends the rest of the film trying to avoid confrontation, which makes for both funny and tense moments. Of course, we all know Ichi that will eventually have to pull out his trusty cane sword again. But how will he manage knowing that, after just one slash, he'll be weaponless?
Zatoichi's Cane Sword is perhaps the seminal Ichi film – arguably the very best in the series. The film includes everything we love about Ichi, including plenty of the character's trademark humor, fine acting, some of the best characters in the series and a number of truly scary moments. Guest star Eijiro Tono, as it happens, also appeared in Akira Kurosawa's 1965 film Red Beard. Note that while the image quality here is very good, with solid blacks, fine detail and accurate (though muted) color, it does occasionally look a little soft.
- Todd Doogan and Bill Hunt
16 – Zatoichi the Outlaw (Zatoichi Royaburi)
1967 – Katsu Production Co./Toho Co., Ltd. – Director: Satsuo Yamamoto
Film Rating: B+
Video/Audio: B/B
Always on the hunt for a filling rice ball, a hot cup of sake and a good wager, Ichi should be in heaven when he arrives in a small town that supports itself with two gambling houses. But it's gambling that's ripping the town apart… and Ichi doesn't like cheaters. The farmers are so involved in the game that they can't get their crops going and are forced to hand over their land to pay their growing debts. Caught up in the conflict between the two houses, Ichi must decide which one to support. Meanwhile, he meets a former samurai turned farmer, dedicated to helping the peasants get a grip on their lives. Finally choosing a house and taking a job as its masseuse, Ichi thinks he's made the right decision. But he ends up going on the lamb when he learns some distressing news about the place. Ichi might be blind, but he knows damn well when he's been screwed.
This was the first Ichi installment actually produced by Katsu's own company in conjunction with Toho. Right from the start, you can see that he really wanted to make a splash with this film. Everything here is ramped up, from the reinvisioned arrow gag (seen previously in Doomed Man) to the epic-styled music. Outlaw opens with a bang and keeps chugging along until the very end. Outlaw is also one of the more overtly political films in the series, as always taking the side of the downtrodden against rich, corrupt oppressors. Note that the blacks in this BD image look a little crushed, but the presentation is otherwise solid.
- Bill Hunt and Todd Doogan
17 – Zatoichi Challenged (Zatoichi Chikemurikaido)
1967 – Daiei Studios – Director: Kenji Misumi
Film Rating: B-
Video/Audio: A-/B+
If you thought messing with a lion's cub was a bad idea, just wait until you mess with a kid under Zatoichi's protection. In Zatoichi Challenged, our favorite blind swordsman is once again on the road. But this time, he's delivering the young son of a recently deceased woman to his father at her dying request. The problems arise when Ichi discovers that the boy's father, Shokichi, is a talented artist forced to create forbidden art for a band of yakuza. Can Ichi save the man from these vicious gangsters? What about those pesky government officials hell bent on wiping everyone associated with such art off the face of the Earth? And just who is that mysterious ronin anyway?
Zatoichi Challenged is a piece of pure Ichi gold. The first half of the film does much to pump up the character's charm, as he forms a bond with the boy and shows off his softer side. It helps that the child in question is a bit older than the last time Ichi played baby-sitter (in Fight, Zatoichi, Fight). There are great moments of comedy here, as when the child tries to pass a stone off to Ichi as a piece of candy. Then the second half of the film kicks in and Ichi takes off his clown mask, straps on the cane sword and lets the blood fly. Challenged is also one of the better photographed Ichi films, thanks to Kenji Misumi's deft direction and cinematographer Chikashi Makiura's bold choice of vistas and colorful landscapes. Misumi previously directed the very first film in this series, The Take of Zatoichi.
- Todd Doogan and Bill Hunt
18 – Zatoichi and the Fugitives (Zatoichi Hatashijo)
1968 – Daiei Studios – Director: Kimiyoshi Yasuda
Film Rating: A-
Video/Audio: A-/B
Once again traveling the back roads of Japan, Ichi meets a pack of fugitives and quickly makes his deadly mark upon them, earning the grudging respect of their leader, Ogano Genpachiro – one of Zatoichi's single greatest enemies. Ichi encounters Ogano again in a small village overrun with bandits, where he also meets new friends in the form of the local doctor, Junan (played by the brilliant actor and Akira Kurosawa mainstay Takashi Shimura), and his daughter. Things turn chaotic when the fugitives trade sanctuary with the local yakuza for the murder of a labor union representative… and then proceed to wipe out an entire clan. Ichi steps in, but he's shot and left for dead. That's when the fugitives make their biggest mistake. To draw out Ichi and finish him off, they take the doctor and his daughter hostage. Close to death and bleeding out, Ichi wages a terrible final war on these criminals, sending limbs flying and unleashing geysers of carnage.
After establishing the character's cuddly side with Zatoichi Challenged, all the stops are pulled out this time. Ichi is chewed up, spit out and hung out to dry here. If this series were to be compacted into a trilogy, this would be at the tail-end of part two. In other words, this is Ichi's Empire Strikes Back. No hyperbole: Zatoichi and the Fugitives is pitch-black dark, with no comedic moments to give you a breather, and its violence is unrelenting. Through all the darkness, though, Katsu and Shimura have a series of fine interactions that help to further develop Ichi's inner turmoil as a gangster trying desperately to make good. If Katsu wanted to remind us how badass Ichi is, after a series of films designed to deepen his character's lighter side, he rightfully succeeds here.
- Bill Hunt and Todd Doogan
19 – Samaritan Zatoichi (Zatoichi Kenka-Daiko)
1968 – Daiei Studios – Director: Kenji Misumi
Film Rating: C+
Video/Audio: A/B
This film starts simply enough: Ichi joins up with a gang of yakuza thugs, who are collecting a debt from one of their own members, and it's Ichi's job to kill the guy. As he does so, though, he immediately regrets his decisions. It turns out the whole thing is a crisscross. The yakuza actually want the man's pretty sister Osode, so they needed her brother out of the way. When Ichi figures this out, he grabs the girl and hits the road to bring her back to her hometown. Of course, the girl just saw Ichi kill her brother in cold blood and wants nothing to do with him. All the expected swordplay action ensues, with plenty of drama, and it culminates in one last rescue attempt and a battle with a love-sick ronin named Yasaburo Kashiwazaki (Makoto Sato), who wants Osode for himself.
Samaritan Zatoichi is certainly one of the faster paced, balls-to-the-wall entries in the Ichi series, though that doesn't make it a particularly great film. The problem is there's not much in the way of character development in this installment, or even decent set-pieces. This film isn't bad, but it's definitely not Ichi at his best, which is odd as this was directed by a veteran of the series, Kenji Misumi.
- Todd Doogan and Bill Hunt
---
20 – Zatoichi Meets Yojimbo (Zatoichi To Yojimbo)
1970 – Katsu Production Co./Toho Co., Ltd. – Director: Kihachi Okamoto
Film Rating: B+
Video/Audio: B/B
Seeking a sort of vacation, Ichi sets out for a village where he's spent time in the past, with the best hot springs he remembers anywhere. It's a place that's never done him wrong, a rare thing in his experience. But when he arrives, he finds that the village has changed and not for the better. Greed is rampant as a powerful local family is double-dealing and back-stabbing in order to steal all the gold from the Shogunate. Ichi is met with a chilly welcome and knows something's up. When he starts to sniff around, he bumps into a hired yojimbo named Sasa, played by the legendary Toshiro Mifune. Sasa's been hired to protect the crooked family at all costs. But Ichi, in his clever way, knows that Sasa is inherently good and uses the ronin to his own advantage.
Take Kurosawa's Yojimbo character (a misnomer, we know) and throw him up against Katsu's Zatoichi, and the result is pure samurai awesome. Though it's still not the best Ichi installment, Zatoichi Meets Yojimbo has obvious cache and is usually the film newcomers to this series are most familiar with. The good here is… well, Katsu and Mifune. They're simply terrific together on screen. The bad is that the story sort of burps along in search of the eagerly awaited battle scenes, which are relegated to the last half of the film. In any case, Zatoichi Meets Yojimbo has class, chemistry and plenty of fun. Note that while the Blu-ray looks good, with abundant detail, film stocks have begun to change by this time such that the blacks are a bit crushed looking here.
- Bill Hunt and Todd Doogan
21 – Zatoichi Goes to the Fire Festival (Zatoichi Abare-Himatsuri)
1970 – Katsu Production Co./Daiei Studios – Director: Kenji Misumi
Film Rating: B-
Video/Audio: B+/B
In Zatoichi Goes to the Fire Festival, Ichi finds himself face to face with a powerful Yakuza boss named Yamikubo, who considers himself a Lord on par with all others. Yamikubo does what he wants, destroys who he wants and taxes everyone who crosses his path. When he meets Ichi, Yamikubo finds himself liking the wandering masseur for a number of reasons, not the least of which is that they're both blind. Wanting to be his mentor, Yamikubo shows Ichi great respect... until a chance event forces him to call for Ichi's death. That won't come easily though, especially with a young woman acting against her master's will out of love for Ichi, not to mention Ichi's unmatched skill with a sword and the presence of a mysterious samurai who won't let anyone else kill Ichi... because he wants to do it himself. The blind swordsman may have finally met his match.
Don't be fooled by the trailer for this film. Though it looks like the most dire and nihilistic entry in the series, Katsu's Ichi is always in good spirits and isn't in any real danger until the end. Still, there are some badass fight sequences here, including a naked skirmish with a gaggle of yakuza, who attack Ichi in a hot tub. The final battle is a doozy, marking this film a return to form for director Kenji Misumi. As with other entries in the series during this period, the BD image here features somewhat crushed blacks, though color and detail are excellent.
- Todd Doogan and Bill Hunt
22 – Zatoichi Meets the One-Armed Swordsman (Shin Zatoichi: Yabure! Tojin-Ken)
1971 – Katsu Production Co./Golden Harvest/Daiei Studios – Director: Kimiyoshi Yasuda
Film Rating: B-
Video/Audio: B+/B
Shaw Studios' superstar Jimmy Wong reprises his role as the famed One-Armed Swordsman of H-K cinema in this unusual Hong Kong/Japanese co-production. (Here he's called Wang Kang and not Fang Gang, as he is in the H-K films One-Armed Swordsman (1967) and Return of the One-Armed Swordsman (1969) – note also that this is not the same one-armed man from the second Ichi film.)
Wang has come to Japan in search of a quieter life. While en route to the temple village of Fukuryu-Ji, he joins a family of Chinese expats who offer to show him the way. They also encounter a Shogunate procession on the road and make way, as is the law, but a kite blows into the road. When the family's young boy runs out to catch it, the procession's samurai move to kill him as a possible threat. Wang steps in, a battle ensues and the samurai wipe out all the witnesses (including the boy's parents) to save face, realizing they may have jumped the gun. The boy escapes all alone… until he meets Zatoichi, who takes the child under his wing. Wang soon finds them and, now wary of Japanese, takes the boy and tells Ichi to leave. But that's not Ichi's style and he offers to help. Into this mix come Toubei, a local yakuza boss eager to earn points with the Shogunate by hunting down Wang and the boy, Kakuzen, a monk with a mysterious link to Wang's past, Osen, a prostitute who falls for Ichi's charm, and finally another blind masseuse and a pair drunk gamblers to provide comic relief.
Zatoichi Meets the One-Armed Swordsman is good fun. Watching Ichi and Wang face off – both comedically and dramatically – is highly entertaining. Because they don't speak each other's language, there are many misunderstandings. Regardless, Wang and Ichi have no choice but to deal with each other. Ichi hopes it won't lead to conflict, but of course it does… and it's pretty awesome. The Blu-ray image is good overall, but the blacks do look a little gray occasionally.
- Bill Hunt and Todd Doogan
23 – Zatoichi at Large (Zatoichi Goyo-Tabi)
1972 – Katsu Production Co./Toho Co., Ltd. – Director: Kazuo Mori
Film Rating: B+
Video/Audio: B+/B
Ichi is wandering the back roads, when he stumbles upon a pregnant woman who's just been robbed and left for dead. Before she gives up the ghost, Ichi delivers her baby. The woman naturally begs Ichi to deliver the boy to her husband in a nearby village and, as you'd expect, Ichi complies. With the help of an aging but honorable constable, he manages to find the boy's aunt, Oyae, who's working as a maid in the local inn. Just as things are looking up, a yakuza boss and his thugs arrive in town to demand taxes from the local performers in an upcoming festival. The boss threatens to press Oyae into service as a prostitute – and our man Ichi isn't standing for that. But his efforts to help her are hampered by the arrival of her brother, the murdered woman's husband, who mistakenly blames Ichi for his wife's death. Ichi quickly learns the truth of the old adage: no good deed goes unpunished.
Katsu's unique brand of humor and wit, along with the character's usual do-right action, make this an enjoyable entry in the series. Better still, there's plenty of the requisite trick swordplay you've come to expect from these films. The obvious influence of 1970s American filmmaking (visible in the film's camerawork and particularly the soundtrack) makes Zatoichi at Large even more interesting. It also has one of the most badass final thirty seconds of any film in this series. The action isn't over here until the very last cut... literally. Like other films in this period, the BD image offers great detail but muted colors and somewhat crushed-looking blacks.
- Todd Doogan and Bill Hunt
24 – Zatoichi in Desperation (Shin Zatoichi Monogatari: Oreta Tsue)
1972 – Katsu Production Co./Toho Co., Ltd. – Director: Shintaro Katsu
Film Rating: C-
Video/Audio: B/B+
If you thought Zatoichi and the Fugitives was dark, just wait until you see this installment. Ichi meets a woman on an old bridge, who warns him of its loose and missing boards. He gratefully thanks her and learns she's headed to the village of Choshi, known for its red light districts, to visit her daughter. They say their good-byes but the woman falls to her death from the bridge, leaving behind her shamisen. Feeling responsible, Ichi decides to deliver the instrument to the woman's daughter with the bad news. Choshi, it turns out, is being strangled by a yakuza boss named Mangoro and his thugs. The local fisherman are losing their boats and nets to him and what they don't gamble away, they spend at the brothel. It's there that Ichi finds the woman's daughter, Nishikigi. He buys her retainer with money he scams from the boss' gambling barge at dice, making enemies left and right – from the boss to the brothel's owners to a clan of traveling samurai and even Nishikigi's secret lover. Along the way, there's also a B-story involving an orphaned young girl and her brother, whose futures seem darkest of all.
Directed by Katsu himself, this film is terribly sad. It's also one of the oddest of the bunch, because of some very unusual choices in framing and camera perspective. Everything is shot close-up and from behind, which makes it hard for the viewer to really melt into the story. Because of this, and also the film's nihilistic tone, Zatoichi in Desperation probably marks the low point in this series. The BD image quality at least is good, but once again the blacks look a bit crushed.
- Bill Hunt and Todd Doogan
25 – Zatoichi's Conspiracy (Shin Zatoichi Monogatari: Kasama No Chimatsuri)
1973 – Katsu Production Co./Toho Co., Ltd. – Director: Kimiyoshi Yasuda
Film Rating: B-
Video/Audio: B+/B+
The final film in Criterion's collection finds Ichi returning to the village of his birth, Kasama for the first time in twenty years, where he finds a pack of teenagers sheltering in the rundown shack that was once his home. He also meets and befriends a woman who was raised by the same wet nurse he was long ago. As it happen, the village is having trouble paying its taxes, but Ichi's boyhood friend Shinbei – also newly returned – has become a rich and powerful merchant and agrees to pay their debt. But Shinbei seemingly doesn't recall Ichi, and he's secretly in league with a local yakuza boss and the crooked magistrate, who's been fleecing the village coffers. Their goal is to take control of the local quarry, which will bankrupt the village. But Zatoichi isn't about to let them get away with it.
Zatoichi's Conspiracy is a good stopping point. Though the film is somewhat melancholy in tone, and wouldn't rank among the series' best, it's a solid entry that brings the character full circle in many ways. Conspiracy offers great character moments, good fights and pretty much showcases everything that made these films so enjoyable. It also features the return of actor Takashi Shimura in a supporting role. The Blu-ray image quality is good, but once more has slightly crushed looking blacks.
Once again, if you've enjoyed Ichi's journey so far, it continues on from this point in a pair of Japanese TV series, The Tale of Zatoichi (1974) and New Zatoichi (1976-79). There are exactly 100 episodes, all of which are now available on DVD with English subtitles – the first season from Tokyo Shock (you can find them on Amazon) and the other three seasons "unofficially" from SamuraiDVD.com. The series starred (and were produced by) Katsu, using much of the same production crew from the films. After the second series concluded in 1979, there was one more big screen Ichi adventure in 1989, called simply Zatoichi (also available on DVD from Tokyo Shock), which features a far more world-weary blind swordsman. It was the character's last appearance on film before Katsu's death from cancer in 1997.
There have been a few attempts since then to the resurrect the character. First, there was "Beat" Takeshi's take with a serviceable entry in 2003 called simply Zatoichi. There was also a meta turn in Ichi (2008) that takes place in the same story universe and features a young blind girl, supposedly trained by Zatoichi, who takes up his mantle in search of him across Japan. And there was a dark (and frankly awful) reboot in Zatoichi: The Last (2010) that – hopefully – will be the last attempt at making more Ichi films. What no one seems to get is: Zatoichi isn't just a chuckling blind anma with a quick sword. Much in the way that Indiana Jones could only be played by Harrison Ford, Ichi simply is Shintaro Katsu. Accept no substitutes.
- Todd Doogan and Bill Hunt
Tags
Adventures of Zatoichi
,
Akira Kurosawa
,
Bill Hunt
,
Blu-ray
,
box set
,
chanbara
,
Criterion
,
Daiei
,
documentary
,
Dual Format
,
Fight Zatoichi Fight
,
Janus Films
,
Japanese
,
jidai-geki
,
Jimmy Wang
,
John Nathan
,
Kan Shimozawa
,
Kenji Misumi
,
New Tale of Zatoichi
,
New Zatoichi
,
Samaritan Zatoichi
,
samurai
,
Shin Zatoichi
,
Shintaro Katsu
,
Takashi Shimura
,
The Blind Swordsman
,
The Criterion Collection
,
The Digital Bits
,
The Tale of Zatoichi
,
The Tale of Zatoichi Continues
,
Todd Doogan
,
Toho
,
Tony Ryans
,
Toshiro Mifune
,
TV series
,
yakuza
,
Zatoichi and the Chess Expert
,
Zatoichi and the Chest of Gold
,
Zatoichi and the Doomed Man
,
Zatoichi and the Fugitives
,
Zatoichi at Large
,
Zatoichi Challenged
,
Zatoichi Goes to the Fire Festival
,
Zatoichi in Desperation
,
Zatoichi Meets the One-Armed Swordsman
,
Zatoichi Meets Yojimbo
,
Zatoichi Monogatari
,
Zatoichi on the Road
,
Zatoichi the Fugitive
,
Zatoichi the Outlaw
,
Zatoichi's Flashing Sword
,
Zatoichi: The Blind Swordsman
,
Zatoichi: The Blind Swordsman Blu-ray review
,
Zatoichi's Cane Sword
,
Zatoichi's Conspiracy
,
Zatoichi's Pilgrimage
,
Zatoichi's Revenge
,
Zatoichi's Vengeance