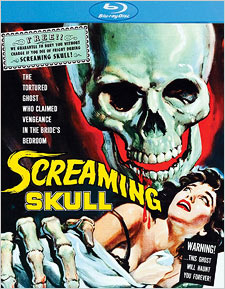 Director
Alex Nicol
Release Date(s)
1958 (April 25, 2017)
Studio(s)
American International Pictures/Orion/MGM (Shout!/Scream Factory)
Film/Program Grade: D+
Video Grade: A-
Audio Grade: B
Extras Grade: B-
Review
At a mere 68 minutes, The Screaming Skull is considered by many to be one of the worst movies ever made... not due to its content, but rather the lack of it. Slow burn to the point of extinguishing itself, it retreads a familiar Gaslight/Rebecca plotline about a newlywed couple who move into the house where the husband and his previous wife lived before her sudden death. Once the new wife begins to settle in, she notices ghostly activity at night, including a mysteriously appearing and reappearing skull. Is she losing her mind or is she really being haunted by her husband's dead wife? The film was directed by actor-turned-director Alex Nicol, who also plays Mickey the gardener, and includes Peggy Webber in the lead role.
While it's easy to poke fun at The Screaming Skull for how poorly constructed it is, not to mention the performances and dialogue, I find my reaction to it similar to the way I feel about the original House on Haunted Hill. I saw that when I was quite young and, as crude as it is, it scared the hell out of me. If your first experience of The Screaming Skull was similar, you may feel the same way. Unfortunately for anyone else, the film just doesn't hold up. While it attempts to build atmosphere, there are scenes where virtually nothing happens for long stretches of time. Even at 68 minutes, the movie feels interminable. The Screaming Skull also attempted a William Castle-type gimmick in which free burial service was offered to anyone who actually died of fright during the movie. In addition, the movie's trailers breathtakingly lied about the film's content, making up an entirely different kind of movie. It's fascinating and, coming as it does from American International Pictures who paired it up as a double feature with Terror from the Year 5000, it should be no surprise.
Whatever the movie lacks in entertainment, its debut on Blu-ray is in a surprisingly beautiful presentation. Taken from a new high definition transfer of a fine grain print, the film has never looked better on home video. Grain levels are solid and well-rendered, showing off an abundance of fine detail and depth. It's also a very sharp presentation, leaving only optical wipes with inherent softness. Grayscale is good, while black levels are deep with excellent shadow detailing. Brightness and contrast levels are satisfying and the frame is quite stable, with little to no film damage leftover other than minor speckling. It's actually shocking how good this movie looks now. For years, it's been featured in a variety of bargain bin releases on various formats, but none of them looked anything like this. For the audio, an English mono 2.0 DTS-HD track has been included. Although it's a flat presentation most of the time, the difference between the on-set recorded audio and studio dubbing is still obvious. Regardless, dialogue is still clear and discernible, while score and individual sound effects have a bit of life to them. Some hiss and occasional thumping can also be heard, though the latter isn't all that frequent. English subtitles are also included as well.
This Blu-ray release also sports some surprisingly good extras, including a Mystery Science Theater 3000 episode featuring the movie. (More of these episodes in this kind of quality please!) There's also Daniel Griffith's terrific featurette This Film May Kill You!: Making The Screaming Skull, which is carried over from the MST3K Turkey Day Collection boxed set. It features an interview with actress Peggy Webber. Also included is an animated photo gallery and 3 different theatrical trailers for the movie.
The Screaming Skull is certainly no masterpiece of the genre. It features some creepy imagery, but it's difficult to find the movie frightening as a whole. Still, if you're one of those people who find value in it, this Blu-ray will certainly be a major upgrade for you. It's a tough film to slog through alone, but if you watch it with a group of friends it has a better chance of being entertaining.
- Tim Salmons