Amazing Spider-Man 2 – I haven't see this yet, but it's the big title of the week so I'll check it out within the next 24 hours. Ask me what I think then.
Criterion Editions: Tie Me Up, Tie Me Down and Y Tu Mama Tambien – Two great Spanish language titles come out this week. Pedro Almodovar's glorious sleaze-fest and Alfonso Cuarón slight ode to Chasing Amy. Kinda. Not really. But it's there if you look.
Fading Gigolo – I honestly don't know what to do with this. John Turturro stars and directs himself as an unlikely gigolo with Woody Allen as his pimp. It's an out there concept, but I trust Turturro, so I'll check it out. I'm sure there's more to it.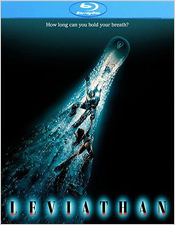 Leviathan – This is one of those pretty fun 80s/90s movies. It's an Alien(s) rip-off while also being an The Abyss rip-off , but damnit, it works. A team of underwater miners (huh, huh!) finds a derelict Russian vessel and with it a bottle of vodka - that is more than it seems. George "Tombstone" Cosmatos directs, David Peoples and Jeb Stuart co-wrote and Peter Weller, Richard Crenna, Amanda Pays, Daniel Stern, Ernie Hudson, Hector Elizondo and Meg Foster star with monster effects by Stan Winston. That's a hell of a pedigree. Check it out.
Only Lovers Left Alive – Jim Jarmusch writes and directs, Tom Hiddleston, Tilda Swinton, Mia Wasikowska, John Hurt, and Jeffrey Wright star and it looks like a fun ride. I know next to nothing about this outside of: it's about vampires that may or may not be THE Adam and Eve. I'm in.
The Quiet Ones – 1970s England and a brainy know-it-all is out to prove supernatural forces are nothing but the fevered chattering of sick people, so he and a team are investigating a case to prove it's all in a person's head. Part movie-movie/part found footage and all Modern Hammer Horror, this one has me on the fence. Seems obvious to me. If it's awesome, someone tell me so I can move it up my queue.
Ray Harryhausen Creature Double Feature: 20 Million Miles to Earth and It Came from Beneath the Sea – If you don't have these in your library as single-editions, here's a money saving double feature.
Rosemary's Baby (2014 TV) – I didn't like this one bit. What a failed attempt. Uhg.
The Sacrament – A found footage Ti West flick roughly based on Jim Jones produced by Eli Roth. Sure, I'm in.
Toy Story of Terror – This is a fun little Toy Story mini-feature extension to the series that worth your time if you're a fan.
TV Releases of Note: Boardwalk Empire: Season 4, The Good Wife: Season 5, Once Upon a Time: Season 3, Parenthood: Season 5, Parks and Recreation: Season 6 and Revolution: Season 2 – Not much to say about this stuff, but for you TV fans looking to cram before the new seasons start, the next few weeks are going to be full of TV titles and this is the newest batch of things that interest me, so, you know, if you like stuff I like, these are all good shows.
That's it for this week. Next week is sorta light with Adam Sandler's newest film being the big title of the week and a new Walking Dead set, but hold tight and we'll get to them. Until then, spin 'em if you got 'em.
– Todd Doogan